Leg #12 Toluca, Mexico to Mundo Maya, Guatemala
November 30, 2014
"The greatest show on earth", but now displayed in front of our eyes when we arrived at the airport.
When we entered the chique MAS FBO we could see at the other end Pilatypus, just parked in front of the glass doors opening to the tarmac. It was a big show really, but nevertheless we liked it. The very same charming man, did run the entire show and he did it very well.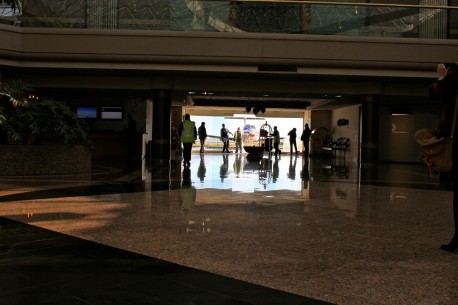 MAS FBO at Toluca Airport: Pilatypus was parked directly in front of the door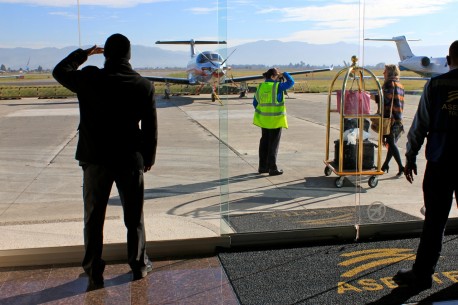 MAS FBO Toluca
Then we prepared the a/c, except loading bagage for the a/c needed to be towed to a special Custom area. We took the opportunity to use at the very last moment the luxurious bath room at the FBO, laden with antique furniture, drink a Cappuccino and make a phone call to my mother.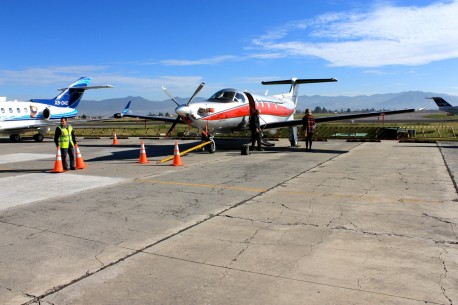 ready to tow PH-PNG from the FBO parking to the custom area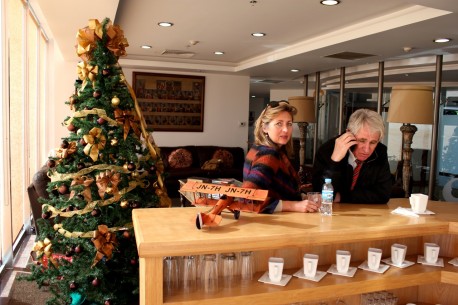 still time for a Cappuccino at the premier class MAS FBO in Toluca
When we looked at all corridors, clearly meant to store all goods once discharging from the a/c, built around each and every parking place in the Custom area we feared the worst. Nothing like that happened. We only had to allow a friendly dog on board to snif for drugs. I have once been told that these dogs are on drugs themselves, so that they are eager to find drugs to satisfy their needs. That may however change from country to country.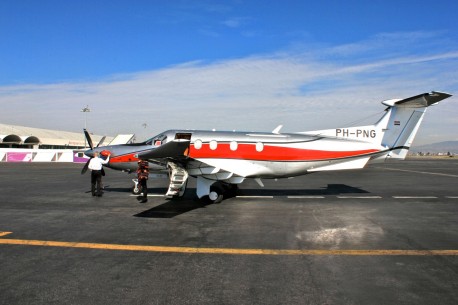 custom inspection area at Toluca Airport
We departed from a runway of more than 3 KM and we really needed only to keep a sharp eye on the ITT [Internal Turbine Temperature] below 780 degrees C. It all went fine and we rotated at 82 knots.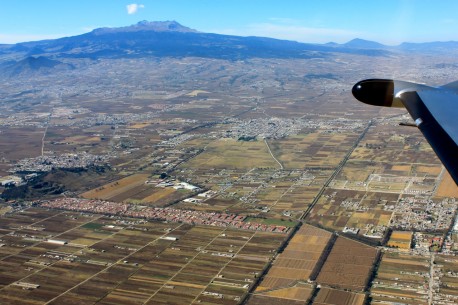 departing Toluca, Mexico direction Guatemala
Then we searched for a mountain with the shape of a sleeping woman. We found her easily. It reminded me to the painting in a Italian bar/restaurant in Jermyn Street, close to RORC, opposite my favourite shoe shop Crocket & Jones. Both places I could recommend to my London friends.
A flight over Guatemala without any kind of problem.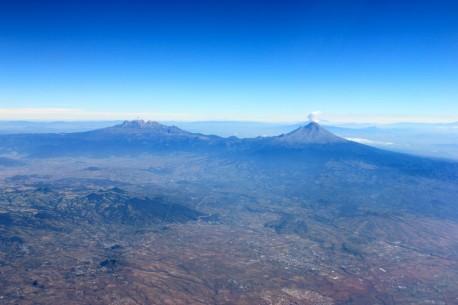 "Popocatépetl and Iztaccíhuatl" the volcanoes Popocatépetl ("the Smoking Mountain") and Iztaccíhuatl ("white woman" in Nahuatl, sometimes called the Mujer Dormida "sleeping woman" in Spanish) which overlook the Valley of Mexico. (Wikipedia)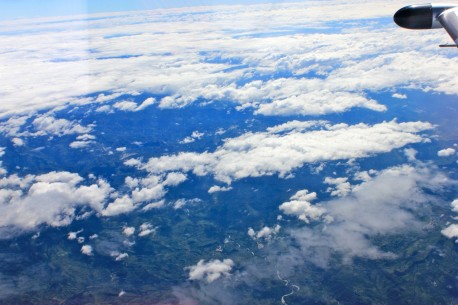 over Guatemala
Then under full guidance of Instructor Frischknecht (once an Instructor always an Instructor … "if I say 210 knots it is 210 and not 205 nor 215") we prepared the approach to RWY 10 in different ways on the screen of the PF [Pilot Flying] and on the screen if the PNF [Pilot Non Flying]: VNAV for the PF versus ILS for the PNF. We could not observe the slighest difference on either screen. I fell already in love with the VNAV but looking at this overlay, I became even more enthousiastic.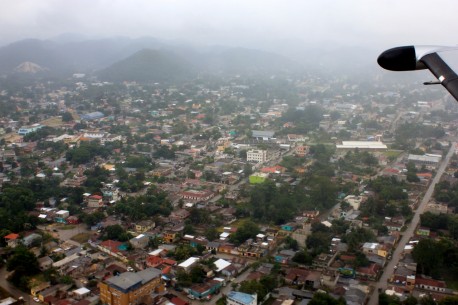 short final RWY 10 at Mundo Maya, Guatemala, MGMM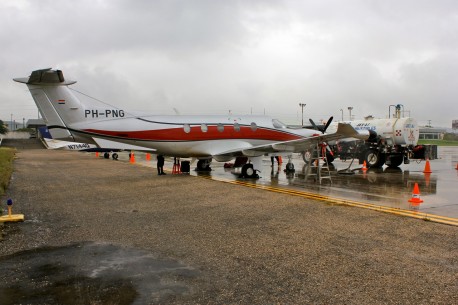 we parked and refueled PH-PNG in the rain…..
We parked, asked for fuel and for the Customs permission after a more than usually long check to take all our luggage inside the hall and do some repacking. Everyone was helpfull and most friendly.
Then a taxi took us to a dream hotel Las Lagunas in Petén.
From here on Sophie will take the pen and write about our four days stay in Guatemala.