11 tons on an anchor with 200 meters chain and cable
May 25, 2015
Myth of Malham Race to Eddystone Rock.
The weather forecast was gloomy i.e. predictions of hardly any wind. Consequently RORC decided to finish the Race at North Head instead of sending us back around the Isle of Wight, which would have increased the Race by some 26 Nm.
We started Saturday at 1 o'clock with at the best 10 knots of wind against a tide of 1 knots of current, since our start was three hours prior to HW Portsmouth.
Leen made a very good start by just cutting off the engine at the North end of the starting line some 6 minutes before the start and keeping the boat in one and the same direction without making any speed over the ground. We were first over the line of IRC-4 Class under our Spinnaker 1.
This was the best news of this Race. Already near to Durns Point the wind died and we saw Foggy Dew taking advantage of the very ight conditions and pass us. So did actually also Andy Cassell, helming a Sigma 38 called MacHismo II.
It all went relatively well until we came close to a point some 7 Nm South of Bill of Portland. At that moment we had Foggy Dew 2,5 Nm in front us and in line Courrier de Leon at 4 Nm.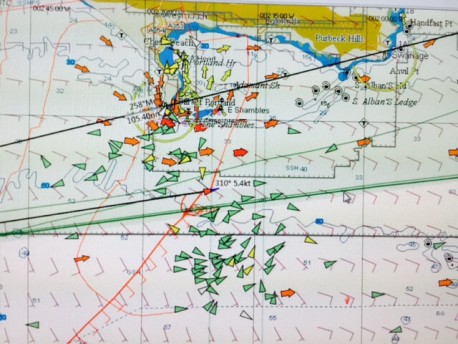 It was in the early morning of Sunday, still dark. We had no wind and floated somewhat around. All of a sudden we could see on AIS Courrier de Leon and Foggy Dew take off at 6 knots, whereas we lost the wind completely. It happened around 8 pm.
Leen's toy, our light anchor, came on deck and was dropped at a line of 150 meters. No result. We continued to drift back direction East. Then another 50 meters was added. Only after 10 minutes the anchor started to hold ground. We probably stayed 01:30 at anchor. Thereafter once the wind came back, it must have taken us more than 30 minutes to get the anchor back on board. The anchor started not to cooperate by staying fixed in the bottom. There was an enormous load on the winch which was holding the anchor. In short here we lost the Race.
We continued but because both Courrier de Leon and Foggy Dew could not be seen anymore on AIS (meaning they were out of our 10 Nm AIS reach) we realized how big the damage was. It was midnight.
There must have been a split in the weather/wind just South of Bill of Portland between them and Winsome.
Of course more boats had the same problem. Since we could never see MacHiamo II sailed by Andy, their AIS must have been out of order. We need to discuss this issue with him one day at .. yes you guessed right .. a bar in Cowes. We will give hell for that of course but we will not protest him (only this time Andy!).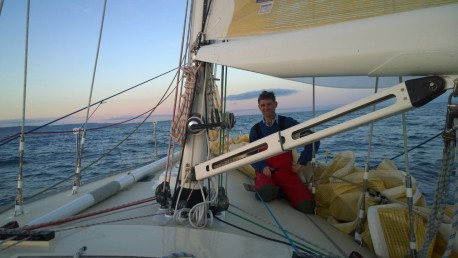 Winsome was running well, the crew was doing well, but it took us exactly 48 hours to finish in a disappointing 9th place.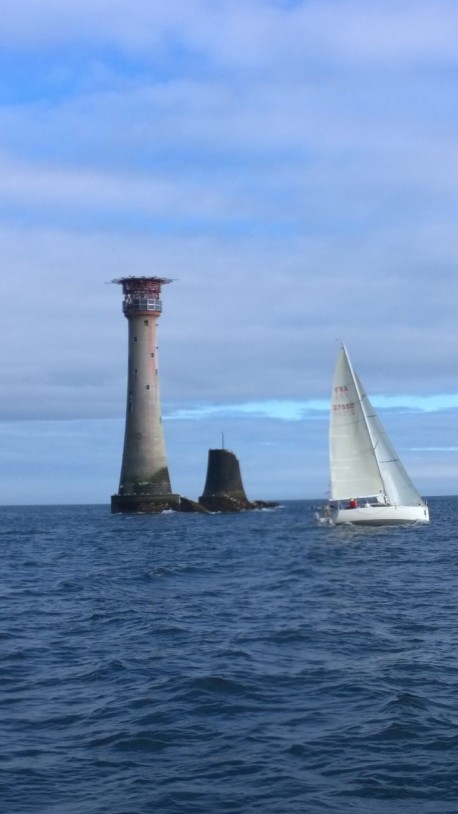 Well big boys do not cry, but this was a bit difficult this time with Foggy Dew winning IRC-4 Class and Courrier de Leon IRC-3 Class, and on top of that IRC-overall, like in the Cervantes Race.
Congratulations to Géry Trentesaux, to Noël Racine with their first places and to Andy Cassell with his 5th place in our class.
True we made some mistakes and we had some bad luck. It was again cold in the night, but not as cold as in the Cervantes Race.
This race was our training for the Rolex Fastnet Race 2015: Leen, Reima, Florent, Nijhoff, Robin and myself. Jan van Balkom and Pieter Köhne replaced Herman and Peter Morton.
Together with Pieter Köhne we worked intensively on Expedition and I showed him all what I learned from Wouter Verbraak. I hope this will be sufficient to let Pieter do the navigation in the Bicentenary Regatta of the RYS in the first week of June, when I will helm Winsome for a change. It is a condition in this regatta that the owner helms the boat. No one else.
We are ready for the the next race(s).