Training for Cowes Week 2016: Brexit National Championship by RORC
June 25, 2016
Our first training this year was the Easter Challenge at Eastern. This would be our second training with nearly the entire Cowes Week crew on board: Laura, Leen, Boj, Floris, Joost Heikens (replacing Hidde), Joost Nijhoff, Herman and myself.
It would be three days of racing.
FIRST DAY, Friday 24th of June.
All races were upwind/downwind races taking  about one hour.
1st race: 2nd place. The start was good and the race went fine.
2nd race: 5th place. We made mistakes, wrong tacks. It was not a good race for us.
3rd race: 5th place. We had no idea why it did not go better.
4th race: 9th place. It went completely wrong, in spite of a good start. We made a broach, we came too close to a small tanker of Wonsild running 12 knots, when hoisting the spinnaker the halyard got twisted with another halyard etc.
So we ended much to our regret on a 4th place overall.
SECOND DAY, Saturday 25th
5th race. After our first we decided to change our way of starting with the goal to be more in free wind at the start. Winsome according her rating was in the middle of class 3, so in spite of good starts on the first day we often got covered by faster boats. We had to take our loss at the starting boat by making a turn, but even so we got away good. Then the wind changed all around us, we saw some of the Fast 40+ boats without any wind at all, whereas other Fast 40+ boats came into squalls. By looking well what happened in front of us, we found a good lane and started passing Class 2 boats having started 5 minutes early. Then we had a very nice windshift bringing us straight to the windward mark. I was dreaming already of a first place, though I realized that Wouter never would have approved this until at least five minutes after having passed the finish line. Completely unexpected the Race Committee had abandoned this races for all classes. Just too bad for.
6th race. Good start but the race was a combination of very light winds, lots of heavy rain and big windshifts. We thought doing well, until the moment it appeared that I had made a wrong note of one of the marks. Before we realized this and corrected our course we just lost enough to be too far back from the higher rated (faster) boats and too close, but still ahead, of the lower rated (slower) boats. Our 9th place on race 4, which we considered already to be our discart, was reinstated since we had 10th place only.
It turned out to be a day with lots of heavy rain.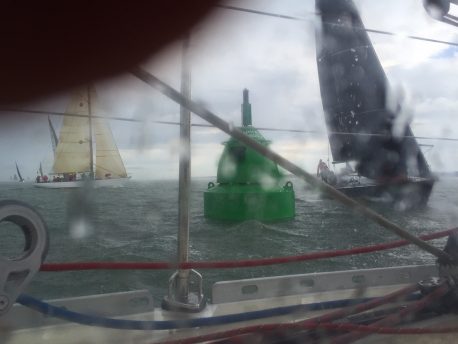 Sofar we have been training well on boat handling and navigation. A lot of things are going very well. Nevertheless we do not like to be now 5th overall, considering our 1st place at the Easter Regatta.
Big boys do not cry and tomorrow is another day, probably with three races.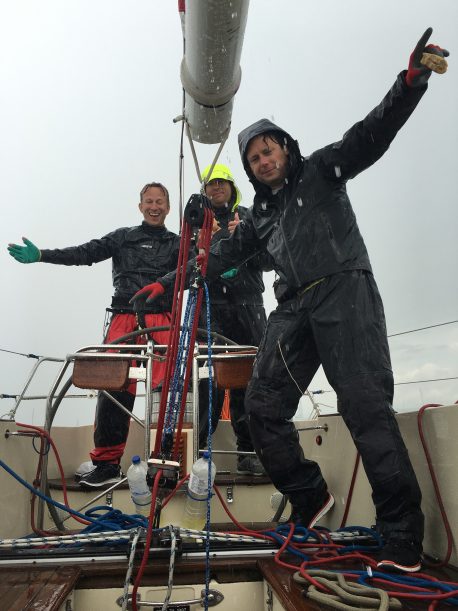 After all we managed to keep our spirits high.