Step four to the Rolex Middle Sea Race 2016
October 20, 2016
Boj and Sarai arrived Monday early morning.
Joost and Babette arrived Wednesday 0900. Joost managed to get on board of Winsome on his 40th birthday for the in-shore trainings race with a RIB from RMYC, just in time (latest possibilty 4 minutes prior to the scheduled start at 10:00). Then there was a 10 min delay so we started ar 10:10). We had the pleasure of having Noël Racine and Luc of Foggy Dew on board. Luc helmed and Noël gave tactical input and trimmed our Genoa I.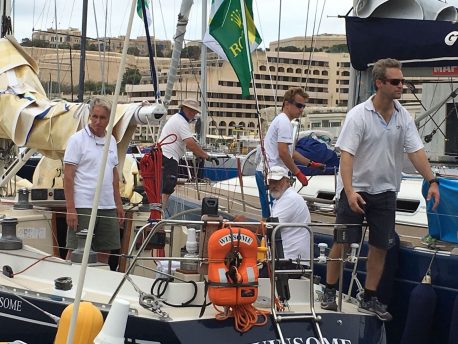 Bogatyr a JPK 10.80 Russian Flag stormed away from us right at the start in light winds and we could never make up for that lost distance. Little Emily became 2nd but we never have seen her on the water nor on AIS. So we became 3/11 in our Class resp 8/24 overall. Not so bad, was our opinion. Of course we should not forget that part of Foggy Dew's crew was on board of Winsome (..). Un grand merci à Noël et Luc.  Below photo shows our return at the RMYC.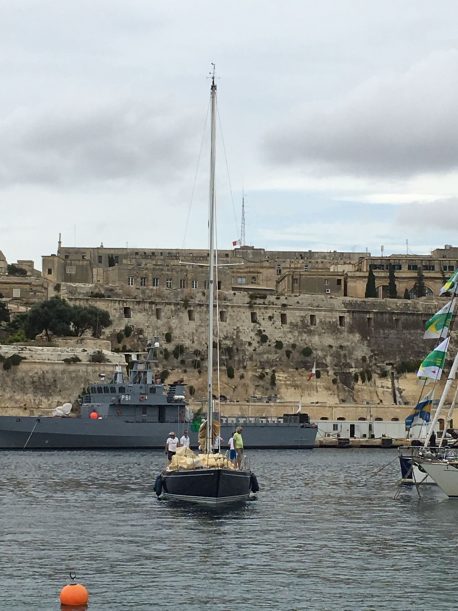 After the race Leen repaired a (spinnaker) guy, Then we celebrated Joost's birthday  for the 2nd time. Floris inspected our rig and delivered all documents to the RMYC organisation. The batteries are full and so are our batteries. This morning a professional diver, called Kevin,  took off the slimy layer on the under water part of the hull.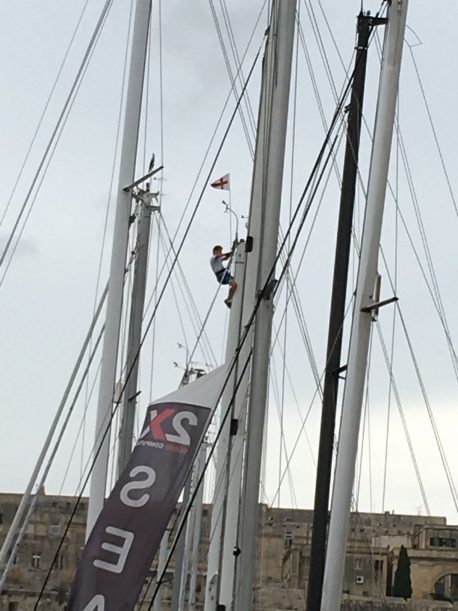 Last night Hubert and Mariana invited us for a very nice dinner in their majestic home. Boj, Sarai and Floris picked up our trophy for our 3rd place in the in-shore race but joined us for the dinner which included the Dutch Ambassador Joop, and his wife Rosanna, Nijssen and two very good German friends of the family Uli and Xenia Rebers. Needless to write that celebrated Joost's birthday here for the 3rd time.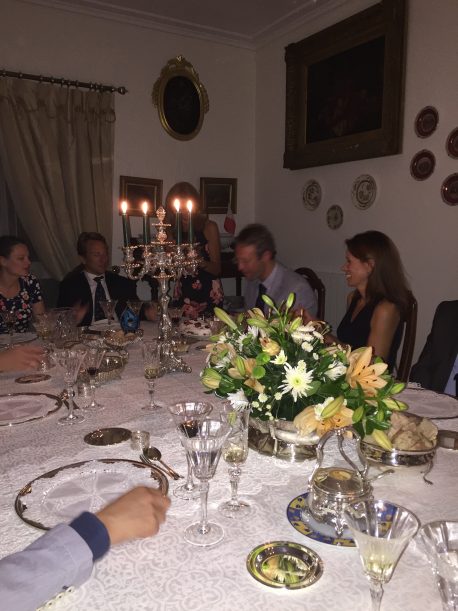 So we are ready to start the race on Saturday 22 October. Wouter Verbraak's preliminay weather forecast shows various wind options from 4 to 23 knots but that is after all in the hands of a Maltese God.