Start of the Rolex Middle Sea Race 2016 and the first day
October 23, 2016
We can say by now that we started on the windless side of the line. It gave our competitors room to get away from us so we were lagging Bogatyr, Foggy Dew [FD], Seawolf and others when rounding Rolex Buoy 2.
On the 55 Nm leg to Capo Passero we lost continuously on these boats. For instance FD's speed was at least 0,5 to 1,0 knot higher than ours. At the end of this leg she was alread 5 Nm ahead of us. There was nothing we could do about that.
To make things worse we did not choose the coast line after Capo Passero Porco, in spite of the recommendations given to me at the Commodore's lunch by Mr Woods, a 13 time veteran on this race.
There we lost FD and others completely. The boats which did choose for the coast line did eventually get wind so our distance between Bogatyr and FD became some 12 resp 10 Nm.
Because a race (this one is 605 Nm) is only finished at the finish (you may now understand the connection between these similar two words) we are keeping up the good spirits in which we started the race. Frankly speaking we do not have a very good chance to win in these light winds, unless Mariana will awake a Maltese God tonight and to organize the winds in our favour.
We have had numerous sail changes, probably 15 by now, so we remain fit. Climate-wise it is very nice since we can stay in our shorts and in our t-shirts during the duration of the (first) night.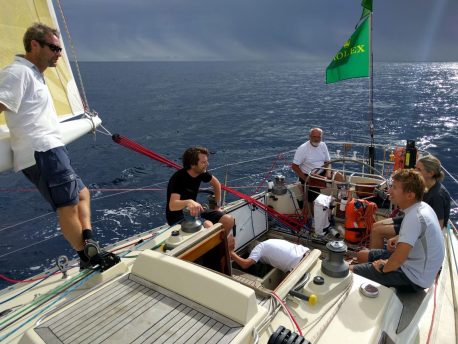 When writing this blog (though it can be sent only later because of connections) on Sunday morning, we were 25 Nm South of the entrance to the Street of Messina.
Will try to write and send a new blog Monday afternoon.