Thursday's Thirties – 6th Day of Lendy Cowes Week 2017
August 4, 2017
Early morning everyone was stoked to get out on the water again. With breezy circumstances predicted, another great day for Winsome was presumably in offing. Although the wind was predicted to exceed 40 knots, the crew assumed that racing would not be cancelled. After all, in the past 17 Cowes weeks Winsome has only experienced lay-days due a lack of wind – never by too much wind.
Hence, Joost D., Boj and Dirk-Jan fully prepared Winsome for today's race, whereupon they ought to pick-up the remaining crew at Trinity Landing. However just before the pick-up-time the message was sent out that today's racing was cancelled due to morning gusts already exceeding 30 knots (IRC zero excepted).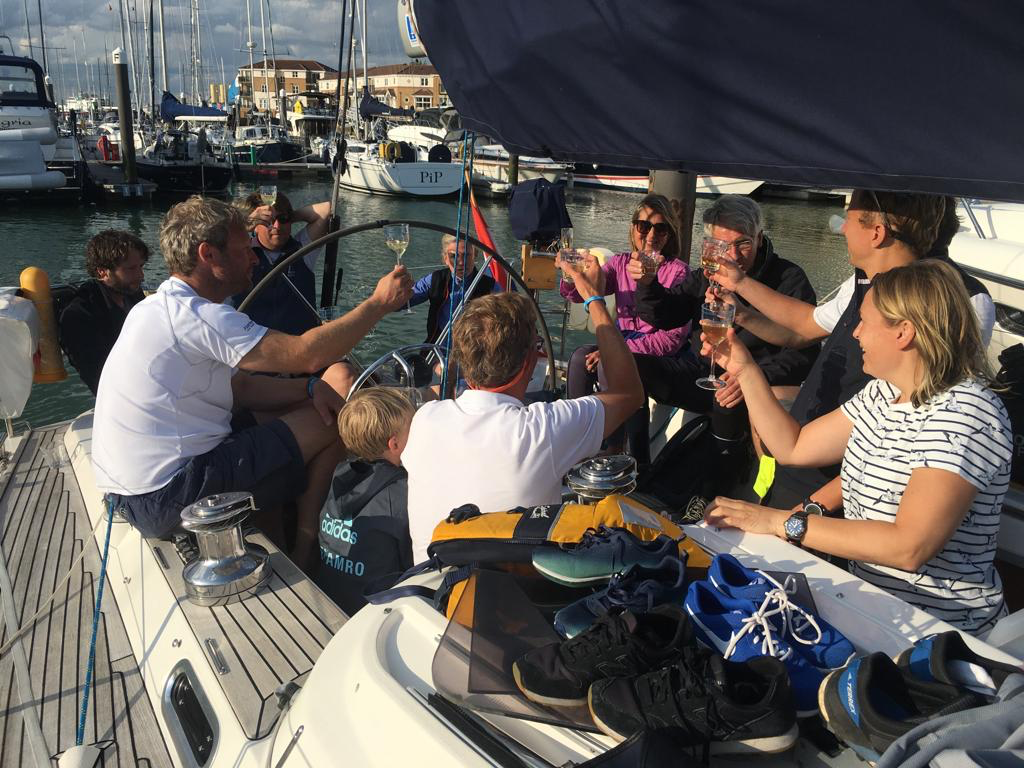 In hindsight, this proved a wise decision by observing the above graph presenting the wind speeds measured on the Bramble bank. As result, today enabled us to do some preparation for the upcoming Rolex Fastnet Race. Floris, Herman and Joost N. went shopping in East Cowes.
On special request of Joost D. they had to bring '00' flour for the exclusive Italian dinner. Unfortunately the Waitrose was sold out the requested product, resulting in an additional trip to the Sainsbury in Newport. Upon arriving back in the house, the crew attended the price giving at the Island Sailing club where the 'Cowes Town Trophy' was collected by our helmslady Laura.
Naturally the price giving was followed by a meeting at the office. After all the crew had something to celebrate. Due to the lay-day, it is very difficult to not win Cowes week in our class as the discard can be used for the result of tomorrow. To finish off the day, Joost D. and Floris prepared an Italian pizza dinner. Before and after pictures were planned for the pizza making process, however the result was gone because of hungry crew before the final pictures were taken. Therefor only the before picture is depicted.

After this delicious meal, there is only one thing left to do for the Winsome crew; having a good night rest to bring the best possible performance for the Friday Finale.
Greets to all,
Joost N.