The last race in 2017
September 9, 2017
Friday the 1st of September was my birth day. It was celebrated with a cake and candles at breakfast. After all, 63 years is not very young anymore.
Whilst the crew prepared Winsome and did some food shopping, I excused myself. My pretext was RORC and RYS visits.
I picked up an engraved trophy and carried it to RORC Racing Office. Then I proceeded to the Squadron, had a nice chat with Patricia Lewington and ordered coffee in the nicest spot in the Castle overlooking the Solent. Since I was the only visitor, I could answer all my birth day wishes either by WA or E or sms. It has been the most relaxing morning in Cowes, ever.
After a not so successfull Fastnet Race, this would be our last chance for a good score. It did not happen, though it all looked possible until one hour outside of the Cherbourg Fort de l'Ouest entrance to the port.
Crew: Leen, Pieter K, Akexander, Joost H, Jan-Maarten, Florent and myself.
Our start was good, just one boat length in advance of Foggy Dew and perhaps three ahead of Pomerol Swan.
We started with some 8-10 knots of wind, decreasing soon to only 6 knots, increasing to 14 knots  at Hurst Castle. At that point Foggy Dew was 0,5 Nm ahead of us, but we were shoulder to shoulder with Pomerol Swan. She was on our port side.
We did not choose to go in between the Light House and the Varvasi wreck. Our course was set based upon the expected wind and predicted tide, confirmed by Expedition.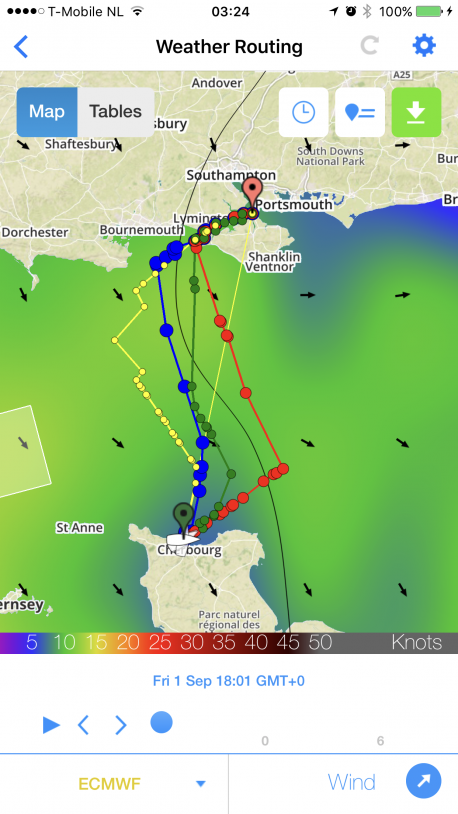 Our Spinaker-Dantuma was set right after passing the Light House and stayed up until the finish with only one gybe.
What went not so good is that though we stayed close to the fleet, we went too much West, together with the fleet. Foggy Dew was out of sight by that time but Pomerol Swan was still on our port side but now at some 2 Nm distance. I believed that she would be be pushed beyond the entrance of Fort de l' Ouest as a result of the strong flood coming from Alderney. My mistake was that the fleet ánd Expedition calculated with the predicted wind of 6 knots whereas the wind increased to 11 in the course of the night. Pieter K discovered it and I felt ashamed.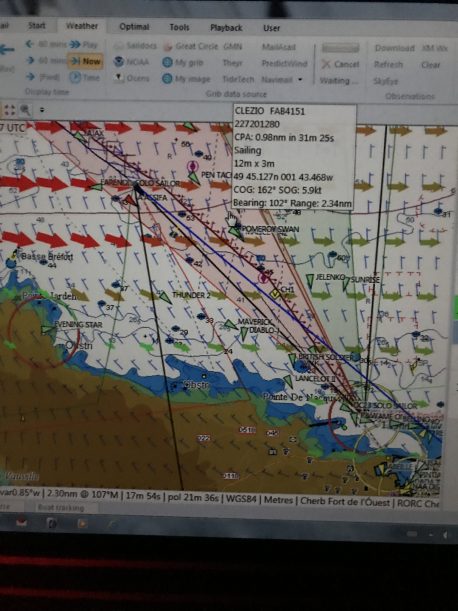 So when we gybed Pomerol Swan was suddenly 2 Nm ahead of us. Though we came close to her on this last part of the race, we did not manage to pass her let alone keep her 3 minutes behind us, needed according to our 0,5% difference in rating in favour of Pomerol Swan.
We had not counted with Jurassic at all so we became 4/13 in our Class IRC 4, resp. 34/56 overall and this in a race which we have won three times overall in the last 18 years.


After the price giving Sophie brought us to her farm in Morsalines, where Jan-Maarten came fully back to life after he broke off half a tooth by colliding with the Jockey Pull in the middle of the night, with me on the other side of the Jockey Pull. We never found back the half tooth on deck.
Jan-Maarten cooked like a king, together with Winsome crew except me but plus Sophie, for our dinner with the Noël and Blandine Racine and the crew of Foggy Dew plus Gabriel Waché, an active ocean sailor.
Here some photo's

Our trip back to Cowes went extreemely fast though at one moment we had difficulties to get our Spi-3 down in time with 25 knots of wind and 2-4 metres high waves. It became 10 hours from our berth in Cherbourg to our berth at East Cowes Marina.