26 November 13th day libero. Dubai
November 29, 2017
We started our day with a super-duper-breakfast in the Grosvenor House, our hotel. I must have had thousands of breakfasts in hotels in my life, but I do not remember any of this magnitude. I would say 5,7 on the Scale of Richter.
Then we proceeded to the Green Stables at the Meydan Race Course on invitation (to Sophie) of Erwan Charpy (French of course) to have a look at the Arab and Thoroughbred horses' training taking place 06:00-09:00. Well anyone who read my previous blog will not be surprised to read now that we arrived too late for the training. Nevertheless Erwan gave us, after we succesfully passed two guards, a very nice explanation of the entire equestrian Palace he is running here. Very professional, very expensive too we guess. Before he came here he trained racing horses in France, in UK and in USA.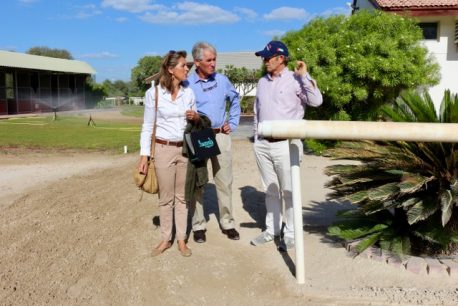 THe entourage looked very sophisticated, but also extremely nice for its inhabitants i.e. Arab horses and Thoroughbreds. The boxes, filled with fresh Oregon woodchips imported from Canada in FEUS [forty feet equivalent units], especially prepared food for each and every horse differently, the saddle rooms, the cloths' rooms, the farrier's room, the vet' room etc looked all as nice as the Grosvenor House. I never have seen horses walking on either aluminium or resin horse shoes, but I understand this is nowadays common practise in horse racing circles. All bridles and leather were looking like purchased the previous day. I do not remember how many people (all from abroad) worked here, but what I do remember that there is one groom for every three horses. Margreeth Kleine of Christoffel Hoeve where Alexis stayed for many years, visited him recently (!).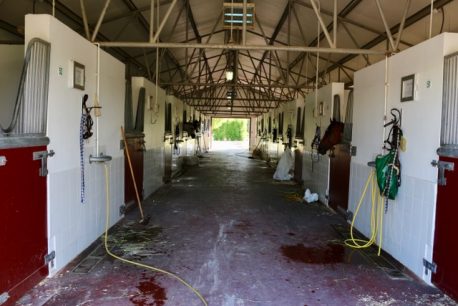 Then he showed us the swimming pool. The first moment I thought this was for the staff, but NO it was for the horses!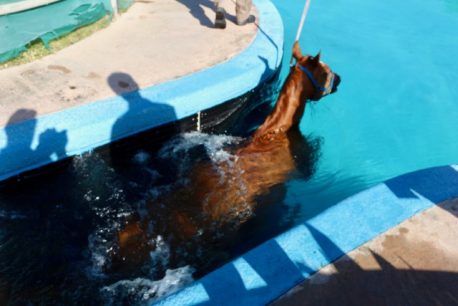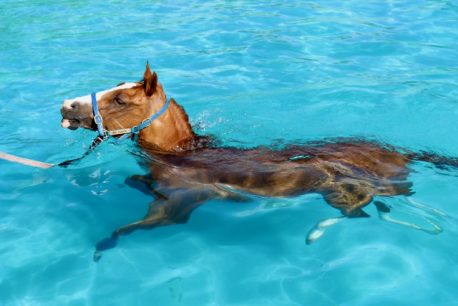 I still would like to know what is the size of the boxes which look ideal indeed. My guess would be 4,5 x 4,5 meters, but I hope to find that out from Erwan one day.
He showed us thereafter the horse running stadion, built in conjunction with a 400 rooms hotel. Of course there was the largest ever built TV screen alongside the race track. The ultimate hobby in Dubai is to spend as much as possible money and to show it off at the same time. Well they have succeeded very well and when we were we did not yet visit the tallest building in the world Burj Kalifa. I come back later to that one.
In order to calm down from all these impressions we decided to go back to one of the centres (do you read what I write, one of the ..?) of Dubai and drink an Italian Espresso. However when we arrived in one of the Dubai Malls (do you read ..?) Sophie made a shout when discovering one of her favourite salons de thé of Paris called Angelina. Plans changed right away and we entered Angelina with a happy looking Sophie. We all three ordered an Africain (chocolat chaud à l' ancienne) and shared a Mont Blanc. Delicious.
Our next step was to visit the tallest building in the world Burj (Tower) Kalifa. 828 meters altitude. Originally, by the time I visited Dubai with BIMCO in 2005 the building was called the Burj Dubai, but when Dubai came close to a bankruptcy in 2007-8 and Abu Dahbi was so kind to borrow Dubai some $80 Billion, the ruler of Abu Dahbi Khalifa bin Zayed Al Nayyan asked a small favour and that was the name change. Well sometimes one has no choice in life, but has to say only 'thank you' and Dubai apparently did so. The tower itself did cost only $1,5 Billion, by the way.
So we went to the entrance of the tower looking for a place to buy tickets. That was not very easy, but we found a desk. I paid by my credit card but did not look very well for what sum I was charged. I am not so sure that we would have gone into the tower if I would have realized how expensive it actually was.
Now I do not regret it at all. It was magnificent.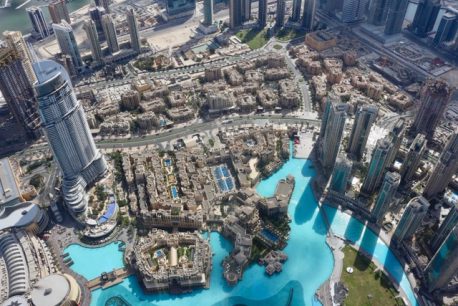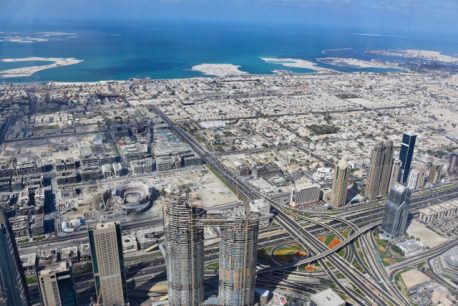 At the end I got my reward for the expensive tickets: when we wanted to take one of the (57 in the entire building) elevators, there were some hundred people waiting, but with a magic sign of one of the guards we got preference over all waiting people. My conclusion is that I paid for First Class Tickets.
A last look at the Burj Kalifa confirmed that it is a magic tower.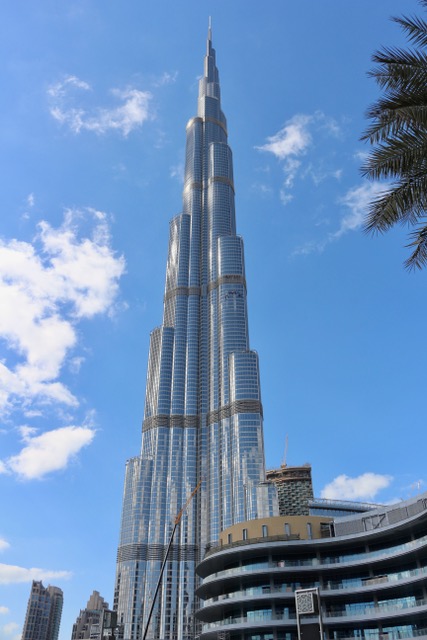 To complete our 2nd day in Dubai, we would have dinner that evening with Ryanne 'and her hockey girls'. My problem was to remember in one evening six new names. Fortunately I was seated in the beginning next to Ryanne, but when the ladies started to swap places it became even more difficult. The moment I sat down I have drawn a map to facilitate my remembering all names: Bouwien, Masha, Marjet, Anna, Esther, Merel and Ryanne.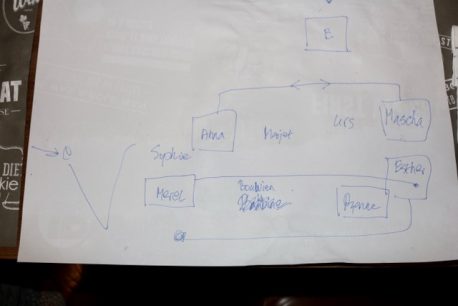 It became a very joyfull evening and the photo's will confirm that.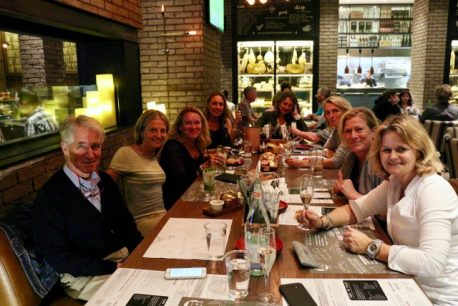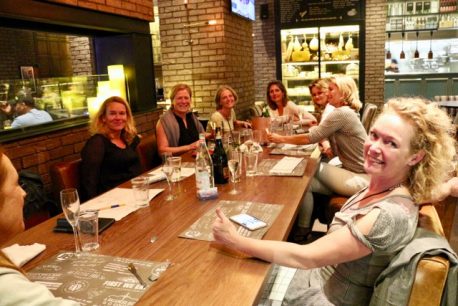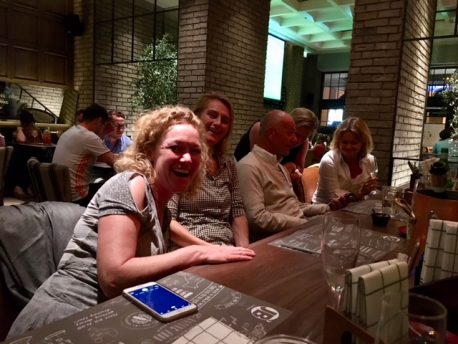 Urs and his girls
My webpage became blocked for the second time in Dubai, so only now in Varna, Bulgaria I have a chance to publish this story.