28 November. 14th day libero. Yerevan.
December 1, 2017
This day would become our museum day, since there is really not much to do in wintertime here.
Our first stop was at a statue of Katchaturian, a composer remembered very well for regular Rolex Fastnet Race crews by his Suite Masquerade. I used to awake the crew for the new watch with this music.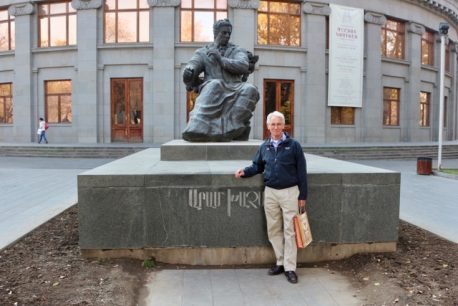 Khachaturian Masquerade suite waltz:

Thereafter we passed a statute af two horses, made out of horse shoes similar the one we did see in the the Green Stables with Erwan Charpy in Dubai.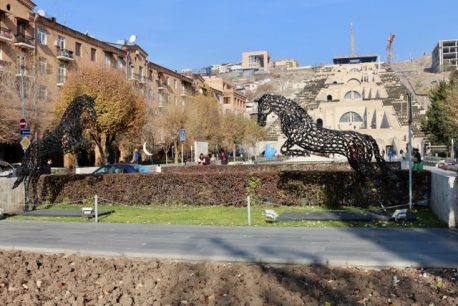 Next was the Armenian Manuscript Museum, called Matenadaran. We saw manuscripts of 2.000 years old,  printed on calf skins. In that time there was not yet any paper available. I was happy to find a document from 1783 dictated by Herzog  Carl August, signed by Johann Wolfgang Goethe.
After a short lunch we proceeded the the Genocide Museum which gave us one of the biggest shocks of our three lives. It looks like that Stalin and Hitler were not unique, considering what the Turks and Kurds, with support of Germany, did to the Armenians. They tried to eradicate the entire Armenian population. We did not want to make any photographs of the photographs in this rather sober museum. At a certain moment I found Sophie 'en larmes' in one of the next rooms. So this was a heavy afternoon for the three of us. As for myself I had hardly any knowledge of these atrocities and of the number of victims. I even would not like to repeat them here, but am sure that Wikipedia will give anyone interested sufficient information, in spite of Turkey's denial of the facts.
Well we had, and will have, something to think about.
We found the people in Yerevan (sometimes called Erevan) rather pleasant but since 9M have left the country, only 2M stayed. Living in bad relations with Turkey and Azerbaijan they are looking now towards Mr Putin as their saviour.
Tomorrow 29 November direction Varna, Bulgaria, on the Black Sea.
https://www.claying.net/studio/20080920/16kha1.mp3 7281908 audio/mpeg