First race in 2018
May 7, 2018
After we missed the Easter Regatta Races, all was done by Berthon, Smart Rigging and Hall Spars to make the necessary modifications on the carbon fibre rig, to get Winsome in order for the Cervantes Race.
A race of 130 Nm to Le Havre, via a Buoy [Cussy] in the Bay of Le Havre. 14 boats participating in our Class IRC-4.
Crew: Leen, Dirk-Jan, Boj, Joost D, Joost N, Lennard Pigeaud, Wouter Verbraak and myself.
At the very last minute Geoffrey Wroath was so kind as to help repairing our mast head unit indicateling wind speed and angles.
Not much wind at the start but enough for us to make an excellent start in IRC-3 and IRC-4 Class. We dared to hoist the spi one minute prior to the start and we were far away from the rest of the atarting field.
Ten minutes later the wind and we were passed by say 10 boats, amongst them FOGGY DEW.
During the entire race we did not find more than 15 knots of wind which was good to rebuild our confidence in the carbon fibre rig.
We came very close to some ships East of IoW, though at anchor.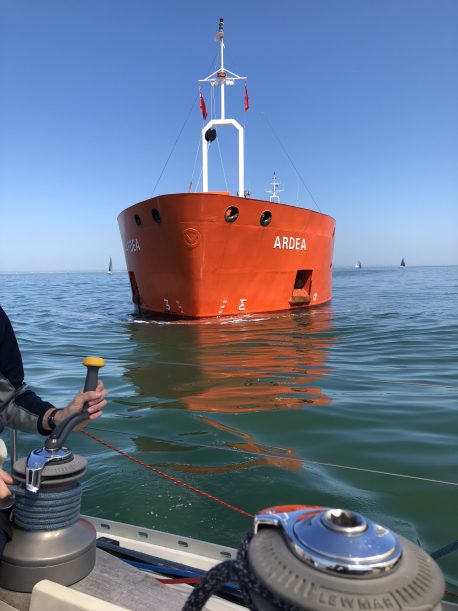 The spi went up after Bembridge Ledge, changed by a peel to spi no 2 in the middle of the night!
All light boats were in favour of the elephants like WINSOME. We did what we could guided by Wouter and in spite of a battle in the last 10 Nm we could not do better than a 4th place. At one moment a 2nd place looked like a possibility but we could never challenge FOGGY DEW. At the very last we discovered JULIETTE on AIS as well as CHINA GIRL too close behind us. We feared falling outside the medaillons but one minute separated us from JULIETTE who came too close to the Rock of Le Havre. So we need to be content with the last medaillon i.e. 4th place.
WINSOME is not yet fully in order but we are in progress.
Our next race will be the RORC Morgan Cup Race to Darmouth 22nd of June. Thereafter more races to follow shortly after each other.
Congratulations to FOGGY DEW and CHINA GIRL. Another French boat, PINTIA, sailed very well by friends of Sophie won IRC over-all but not for the first time.
https://www.rorc.org/raceresults/2018/four03.html
We dropped Joost and Joost in Le Havre after having taken sufficient fuel to motor back to Cowes. We crossed La Manche in about 14 hours by sail and by engine.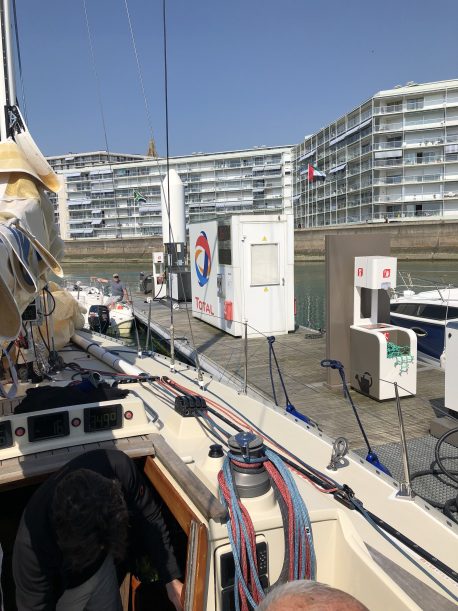 Sunday morning we treated ourselves on a good lunch at the Pavillion.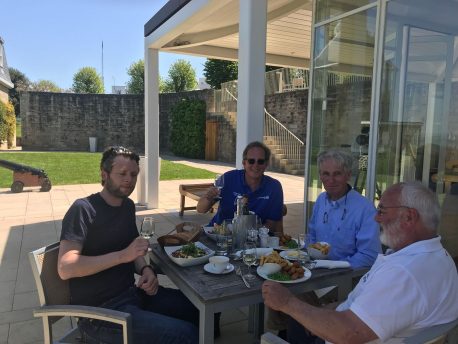 ps we never came any closer than 25 Nm to Sophie's house in Normandie so no chance to celebrate her birthday on 5th of May.