How our series of victories came to a grinding halt in the RORC race to Dinard-St Malo
July 16, 2018
The RORC Cowes-Dinard Race started Friday morning. Crew Leen. Pieter K, Caroline, Florent, Luuk and the new kid on the block Frits van Verschuer, recommended by Jan de Jong.
We expected not much wind in the first place. The start was postponed by one hour, which we did not know, so we made a start at the scheduled time. It was a perfect start, not hindered by any competitor. I had missed the annoucement of Ocean One announcing AP [a delay] caused by a large cargo ship passing through the Solent.
After that we made a second start. The delay caused the tide had turned. We made a good start with 2,5 boat length behind the starting line, at the gun.
It looked like the boats very close to the IoW [Isle of Wight] got a big advantage, but very soon they lost the wind and we were in front. TWS [true wind speed] 7 knots. Start under Spi-1.
The wind increased to 11 knots. We had to take our spinnaker away and sail with Genoa Light. The wind decreased to 4 knots but we did do well and stayed in front.
One moment we looked at the option to pass the Casquets TSS [Traffic Separation Scheme] to the North.  which would take us 10 Nm more to sail, but we decided to stay with the rest of the fleet. "Who sails an extreeme course, sometimes wins, but usually not".
At 18:00 we had to drop our anchor in 57 metres of water. Even with an anchor line of 150 metres (plus 20 metres chain) the anchor did not hold and only after Leen extended the line by another 50 metres, we could keep our position, close to FOGGY DEW.
We stayed at anchor until about 23:00 but FOGGY DEW got away half an hour earlier and obtained as a consequence a lead of 1,2,Nm. Many others who did not anchor at all -amongst them PINTIA- had let drift themselves about 5 Nm to the East.
Then we had a long sailing day without too much wind. Finally finally we got some wind and the tide in our favour, being in a comfortable 2nd position in our Class-4.
SLUISGRACHT made an avoiding action and I thanked the Master who was the Master of SAMPOGRACHT carrying Winsome to Brisbane in 2008.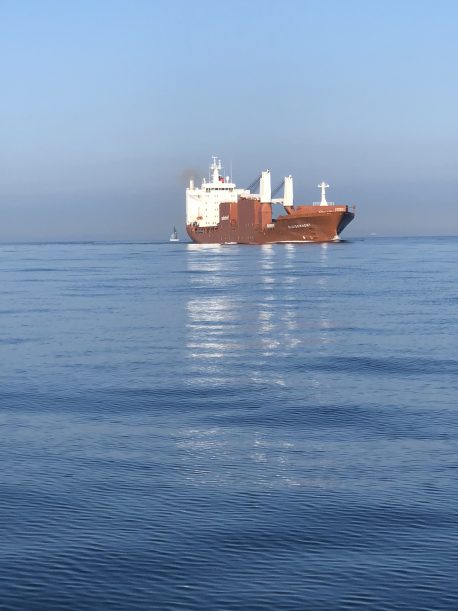 Our position changed quickly when we were not so far from the Casquets Lighthouse. With a SOG [speed over ground] of 9,5 knots we were pushed below our rhumb line, so we tacked. Exactly at that very moment the wind died and the South going tide pushed us back (i.e. South) with a speed of 2,5 knots. There was nothing we could do except praying for wind. No one listened to our prayers. Coming closer to some rocks we had to face our two options left: 1. Go again at anchor but now in 70 metres or 2. start the engine and abandon the race. Option 1. Would mean to remain at least six hours at anchor and see many of our competitors pass us. Option 2. would mean that it would the first race in twenty years we abandoned on our own accord i.e. without a valid reason like a gear failure.
Regardless of our decision it would an embarrasment towards Frits (and Jan de Jong), being on his first trip on WINSOME.
We waited 30 minutes longer to be sure there would not come any more wind. When we came closer to the under water rocks we started the engine and reported our abandoning to RORC and to Falmouth Coast Guard. A mistake of the navigator i.e. myself.
Destination: Cherbourg where we were welcomed by Sophie, who was happy she had not have to drive to St Malo.
We arrived at 9pm local time after a long struggle to pass via the narrows The Swinge North of Alderney. At the narrowest point of our passage we encountered 6,5 knots but our maximum speed through the water was only 6,2 knots. My second proven mistake in one day (..).
Taking a shower and having a good dinner at Morsalines was a nice way way to lick our wounds.
The next day we started with a late breakfast and a swim in the sea. Exactly at the start if the match France-Croatia we left Morsalines. Not any traffic on the roads. In the meantime Florent had taken the train to Paris.
Now, whilst writing this part of the blog, we are close to Bembridge Ledge, under sail, 9 knots of wind, 6 knots SOG [speed over ground], Caroline on the wheel. Nice weather, ETA Cowes 6am.
FOGGY DEW won our Class, Géry Trentesaux his Class with COURIER RECOMMENDE (but without AIS) and overall a French X-442 STERR WEN 5, the only boat which went North of the TSS. The earlier used sentence 'if you sail an extreeme course .. etc' made more sense than ever. So all victories (including the football match) went to France.
We will concentrate on our revenge in the RORC Channel Race starting 28th of July.
Sorry for all our supporters.