Our last race in Cowes Week 2018, our 20th
August 11, 2018
SWUZZLEBUBBLE did not start today, having won our Class IRC-5 already. We had the same luxury in 2017 but started then nevertheless, still being in contention for the overall price in the Black Group.
We started with about 20 knots with G-3, since we expected heavier winds very soon.
We had a good start and had a course to the West with the tide in our favour. After two tacks we were leading our Class. We rounded West Lepe going down wind, but since we wind had increased meantime to 35 knots we changed from G-3 to G-4. It is our oldest sail on board made from Cuben Fibre made by Reima in his WB time, so we hoped for the best. We could not have possibly known that a much younger sail would let us down.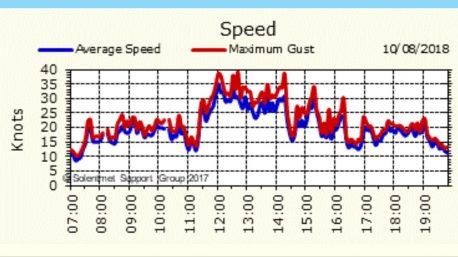 The wind increased to 39 knots, we had meantime a reef in the main sail. We gybed and the main sail blew to pieces at around 1/3rd from the mast head. The remainders were tied to the boom. Initially we were looking for the try-sail until we realized it was not on board.

We We continued towards Seventar mark in 35 knots of wind doing still 7 knots so we intended to finish the race. With so few other boats around we were confident to win.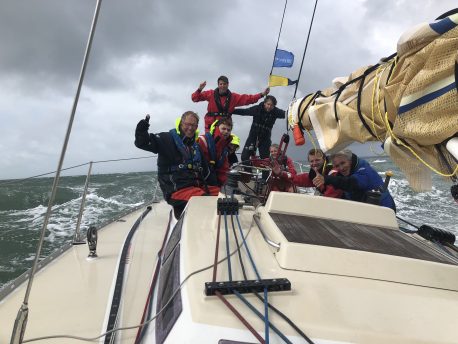 Our idea that the race would be shortened at Sevenstar was wrong. Shortly before we reached Sevenstar we got an announcememt that all race for the Black Group had been abandoned.
This was the end of our 20th Cowes Week with a second place in IRC-5 Class.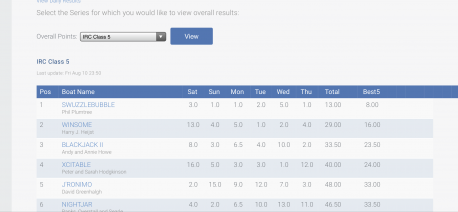 We proceeded towards the Medina to clean WINSOME and assess our damages.