12 November. Fourth and fifth leg. Reykjavik-Narsarsuaq, Greenland 701 Nm and Nasarsquaq-Goose Bay, Labrador, Canada 707 Nm totalling 1.408 Nm
November 13, 2018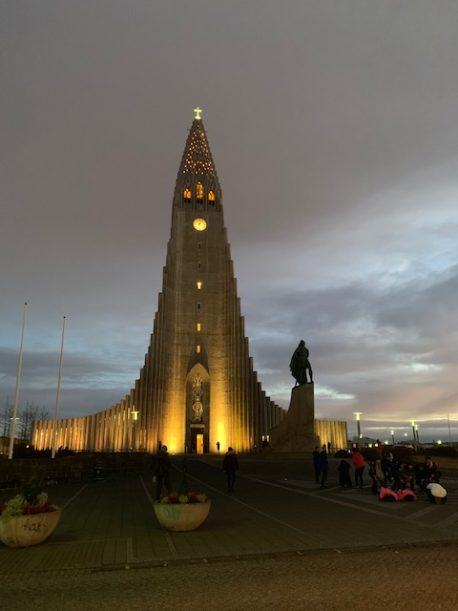 Jaillissement de la cathedrale de Reykjavik
I had hoped that Sophie for the first time would not find a cathedral in a city like Reykjavik, but unexpectedly she did. A kind of monster, even uglier than the one she found in Belfast. My hopes are she will not find one in Narsarsuaq, nor in Goose Bay!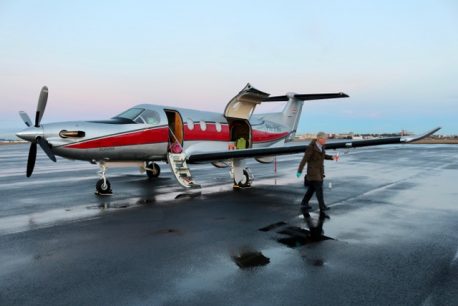 Reykjavik – last checks before boarding
We had a good start in Reykjavik and though we were expecting strong winds in Narsarsuaq, we were not prepared for an extracwarning for severe weather with winds of 40 knots G [gusting) 50 knots at our first destination. Since we were enjoying tailwinds of 47 knots, it made sense to check if we after all could skip Narsarsuaq and fly directly to Goose Bay.
The outcome of this exercise was the same Urs did already at our breakfast with Andy Farmer (our super-duper-fast flight dispatcher in UK, making our flight plans for the entire trip) i.e. we could have reached Goose Bay, but we would have been short on fuel to proceed to an alternate airport in case Goose Bay would be inaccessible for us today.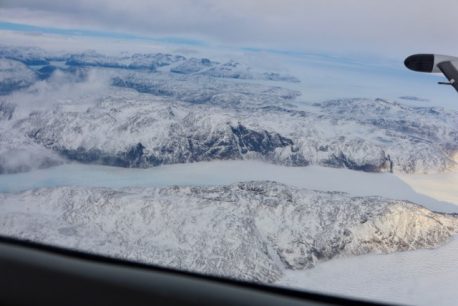 Greenland: descending to Narsarsuaq in severe turbulences
No choice, so we prepared ourselves for a RNAV approach and landing in Narsarsuaq. It all went well and Captain Urs landed her like a PC-6 in Locarno with 2 knots of head wind on the runway.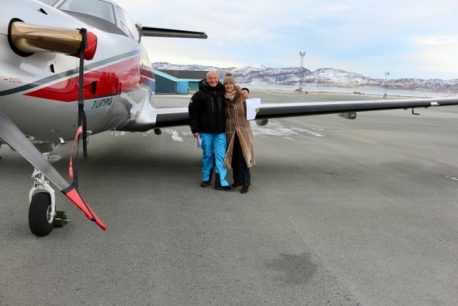 Narsarsuaq: Sophie and Urs
We placed the tail-stick immediately, since we feared the a/c might fall on her tail with the strong winds in combination with ablot of weight in the luggage compartment, most of it belonging to Sophie (..).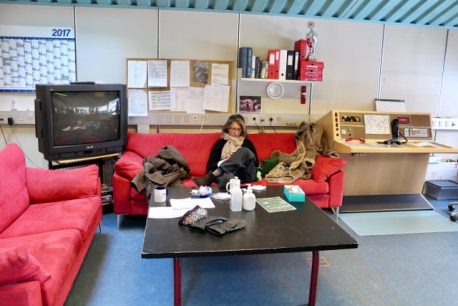 Sophie is booking the hotel for the next destination (FBO Narsarsuaq)
We took off again within an hour. Good service and decent prices for fuel and handling. Everyone we met was Danish and we paid in Danish Krones.
For Urs this was his sixth visit here, for me the second, for Sophie the first. No church nor cathedral, so she will not go here anymore, I guess.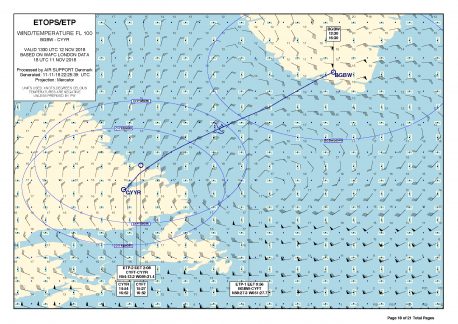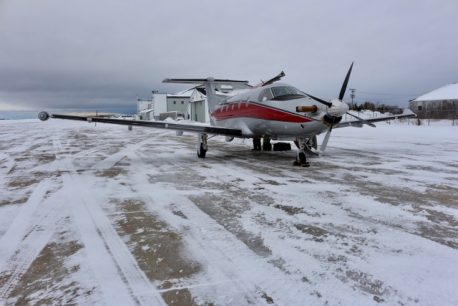 Goose Bay: wintertime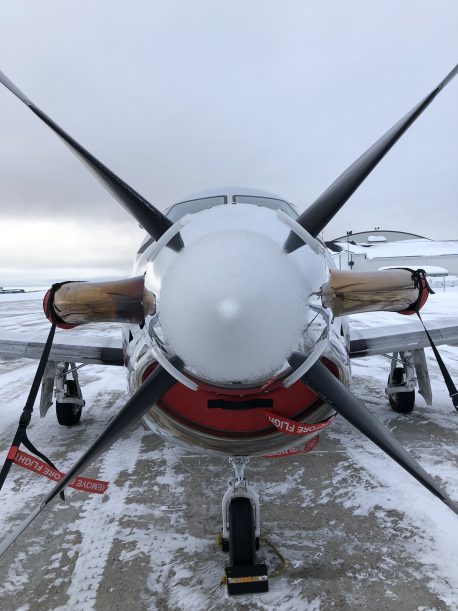 The spinner still fully frozen
In Goose Bay we felt the Canadian winter. Fortunately Sophie found us a somewhat cleaner hotel than North Hotel 1 or 2. We took the self-service barbecue Trappers Cabin and we made it an early night having gained four hours, which we will pay back upon our return in December.