4 December. Twentieth leg. Iquitos-San José, Costa Rica. 1.157 Nm, totalling 11.028 Nm.
December 10, 2018
This would become our longest legs on this trip, until now. Our total of 11.028 Nm until now looks not so much, considering that our totally calculated distance would be 20.772 Nm so perhaps I made a mistake in one or more calculations. Do not believe we have any time left (for instance to check my calculations) on a day like this: getting up, taking a shower or swim and breakfast takes 1,5 hours. 0,5 hour driving to the airport. 2 hours preparation of the a/c (incl. taking fuel). 3-5 hours flying. 1 hour after landing. 0,5 hour taxi. 1 hour at the hotel to check in, change and perhaps a 12 minutes nap). 1 hour dinner. 1,5 hours to write the daily blog, giving a total of 12-14 hours each and every day with exceptions to more hours. It is all a hobby isn't it (?) and some people believe this is a holiday.
Our longest flight was indeed quite long or 04:42 in the air. We had nice views and passed a lot of CB's [Cumulus Nimbus] without having to deviate at all.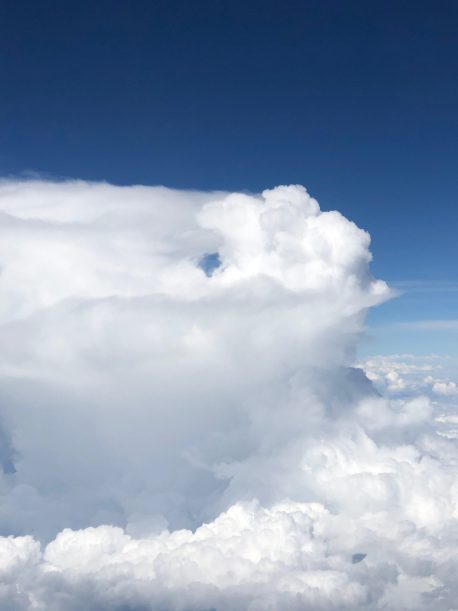 At San José it was not an easy approach, since our approach was in IMC [Instrument Meteorological Conditions].
Our FBO was top, efficient, reasonably priced and extremely friendly. A brand new airport, though equipped with only one runway.
The traffic was a complete chaos so we exceeded our average time for taxiing by more than 100%.
I do hope Sophie will wrote tomorrow the story of our day libero in San José including our stay in Hotel Grano de Oro.
JOURNAL of 4 December
– Patrick celebrates his birthday in between London and Moscow.
– Fulco is not under control anymore of Ernestine nor of Yvonne. Clouds over Lunteren
– Trump in steep descent. The fall of the Roman Empire is now imminent?
– I must have left my VISA Card in an ATM [Automated Teller Machine, voor Christine alleen bekend als 0-0-0-0 met onuitputtelijke mogelijkheden, zeg maar deep pockets], so had to ask Anoek block my Card]