8 December. Twenty-third leg. Freeport-Montreal. 1.209 Nm, totalling 13.368 Nm
December 10, 2018
We arrived in Freeport, Bahamas, called Lucayan Resort. This was the worst hotel on our entire trip. At the reception the girls quite agressive, forced us to wear plastic armbands (not similar to the one the Hua Wei Princess is wearing now in Vancouver BC) and said we could cancel our reservations any time we liked it. Payment in advance plus $100 for each of us, in case of damages to our room.
We stayed, but not with a good feeling.
Our lunch was served on plastic and the two coffee machines in the coffee bar did not work.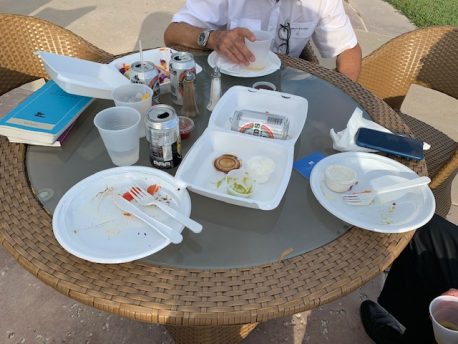 Ok we survived this stay and departed early to the airport for our very long flight over USA to Montreal QU.
It was a fast and cheap turn-round at the airport being virtually the only customer. We were lucky meeting someone with a pile of one-dollar-sheets most with the photograph of President Washington on them. A short discussion resulted in exchanging with him one President-Grant-sheet with (about) fifty President-Washington-sheets.
We departed. Not much visibility until Chesapeake Bay, but on average a tail wind of 10 knots. Until JFK we kept visibility, but the clouds covered JFK completely.
This flight took us just over five hours and we were happy to finally arrive at our favourite airport and FBO at St Hubert. Even the CAD700 we had to pay to the customs because it was a Saturday for them, did not spoil our day.