RORC Myth of Malham Race 2019
May 29, 2019
This would become our 2nd RORC race this year. We had to take delivery of Winsome from Berthon Boat Yard, since the fresh water tanks have had to be repainted.
I arrived at 07:00 with the ferry Cherbourg-Poole, Leen and Dirk-Jan arrived at Lymington from Southampton. We motored her to Cowes. Jan and Pieter van Balkom arrived from Amsterdam straight to Cowes and so did Pieter Köhne. Peter Morton and Ben Cassford were already in West Cowes. 8 crew in total.
The water tanks appeared fine and except for some slack in the steering we found nothing which was wrong. Jan and Pieter picked up our dried sails with Sailcare (now North Sails) and did the shopping and pre-cooking for our race. After all they sailed with me since 1997 so more than 20 years later they still knew very well what to do.
Ben has been sailing successfully with Peter Morton. He came to strengthen our fore deck crew (Jan-Pieter).
MCC cleaned the underwater hull and found some places which were not put in anti-fouling and mermaid Charlotte sent me the photo taken here below.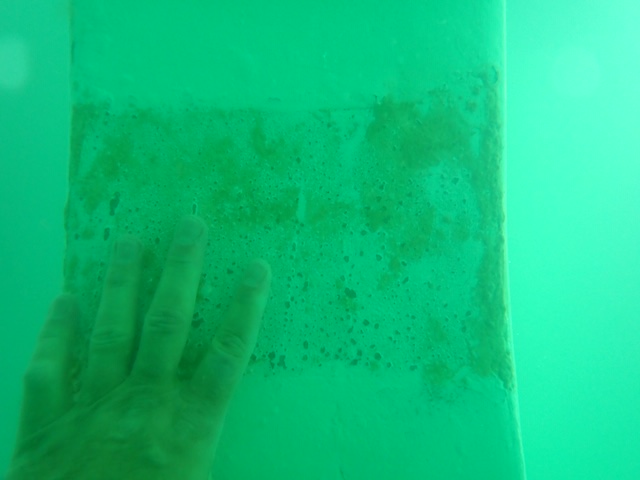 Just prior to our start at 08:00 BST I could not get a starting line in Expedition. It later appeared that the port end of the line (RYS flag pole) had a position close to Start Point. Hm hm. Anyhow I reported to the cockpit that I had no starting line in my screen and that they had to make a visual start. It went all very well and it was a very good start. Still the moment I heard on the VHF 'the line was clear' was a kind of relieve.
The tide was only one hour in our favour so we did choose the Northerly side of the Solent to make advantage of the undeep banks the moment the tide would turn against our sailing direction.
We chose, like the entire fleet, to enter Christchurch Bay, right after passing Hurst Point.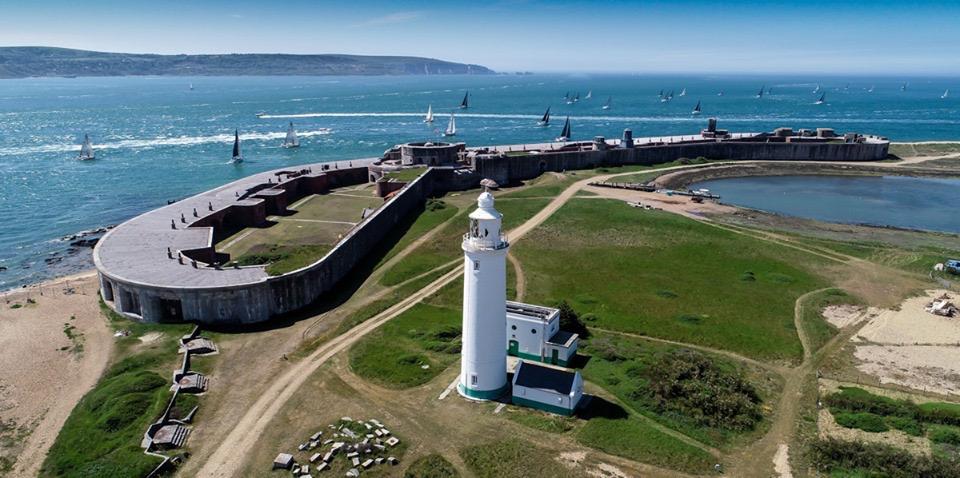 From there we scored very well towards Swanage and we left both Foggy Dew and Gioia 2 Nm behind us. In the Bay towards Weymouth we stayed close to the shore and we waited for Foggy Dew to make a tack, in spite of the instructions of Optima in Expedition to tack right away. Well, when all boats had tacked -except Foggy Dew- we tacked finally. Foggy Dew continued until the shore at Weymouth Bay, got a better wind angle and a lot of tide and made all 2 Nm good on us within 1-2 hours. Well done Foggy Dew. The below photo was taken by either Gina or Martin Stanley from their Running Bear. A Windy motor boat.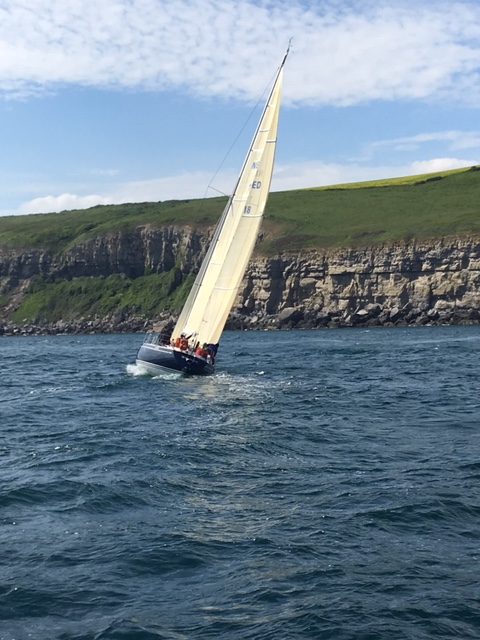 We were still within the first 10 boats on the water, only some 4 Nm behind Pintia, when we sailed into a wind hole. No movement any more. Pintia probably did not even notice it and continued at a good speed of 7-8 knots towards Start Point.
When we came out of the wind hole, our position was quite miserable with Foggy Dew 3 Nm in front of us.
Big boys do not cry, so we rounded the Eddy Stone Light House and started under Spi-2 our 'new race' to hunt Foggy Dew and Gioia.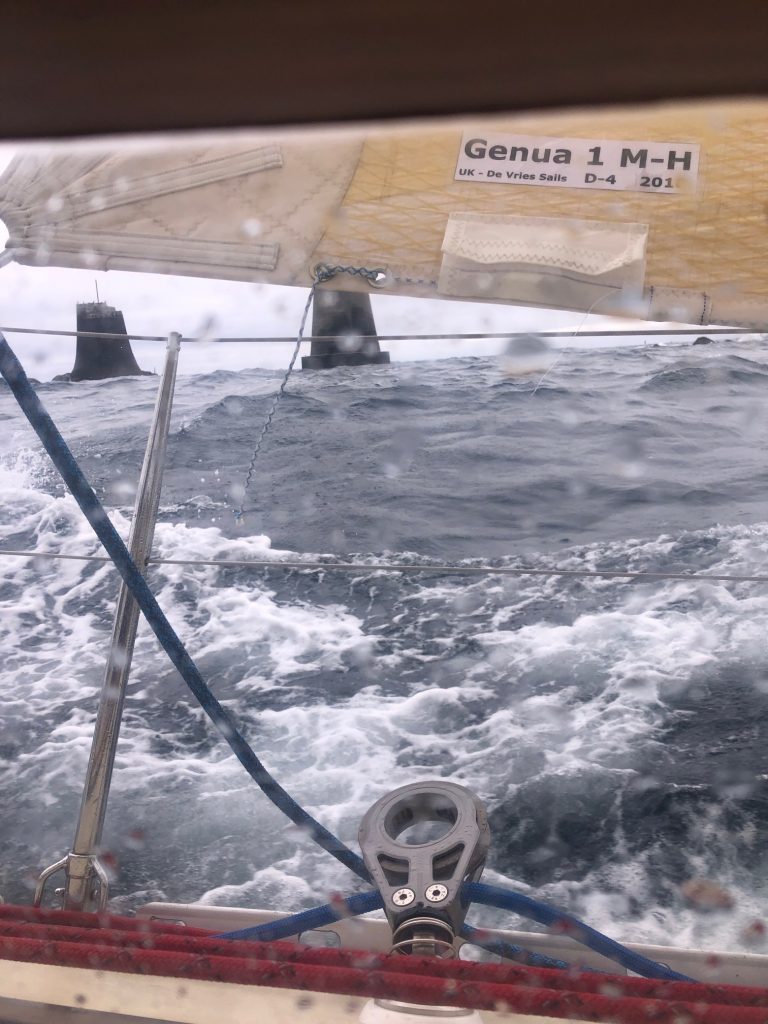 TWS 20-22 knots. Closer to Start Point we changed for Spi-1 and we were able to maintain Spi-1 until 3 Nm from the finish, 15 hours! In spite of 8-9 knots speeds we had no chance to get closer to Foggy Dew or to Gioia. Cora made a bad tack towards Bill of Portland so we lost her as a competitor.
We were not well prepared to hoist G2 close to the finish and that my have cost us the 40 seconds we would have needed to become third in our class. The results of this race in IRC Class-4 were identical to those in the Cervantes Race for the first four boats i.e. 1. Foggy Dew 2. Gioia 3. With Alacrity 4. Winsome. Also this time we had 40 competitors.
This could very well have been a winning race for us, but Aeolus decided differently.
The weather was nice, the atmosphere was good and the crew (including Ben) did a good job. It was not so bloody cold as in the Cervantes Race.
Peter Morton tested our anti-seasickness glasses made by Citroen cars, but we do not know why he kept a winch handle in his left ear.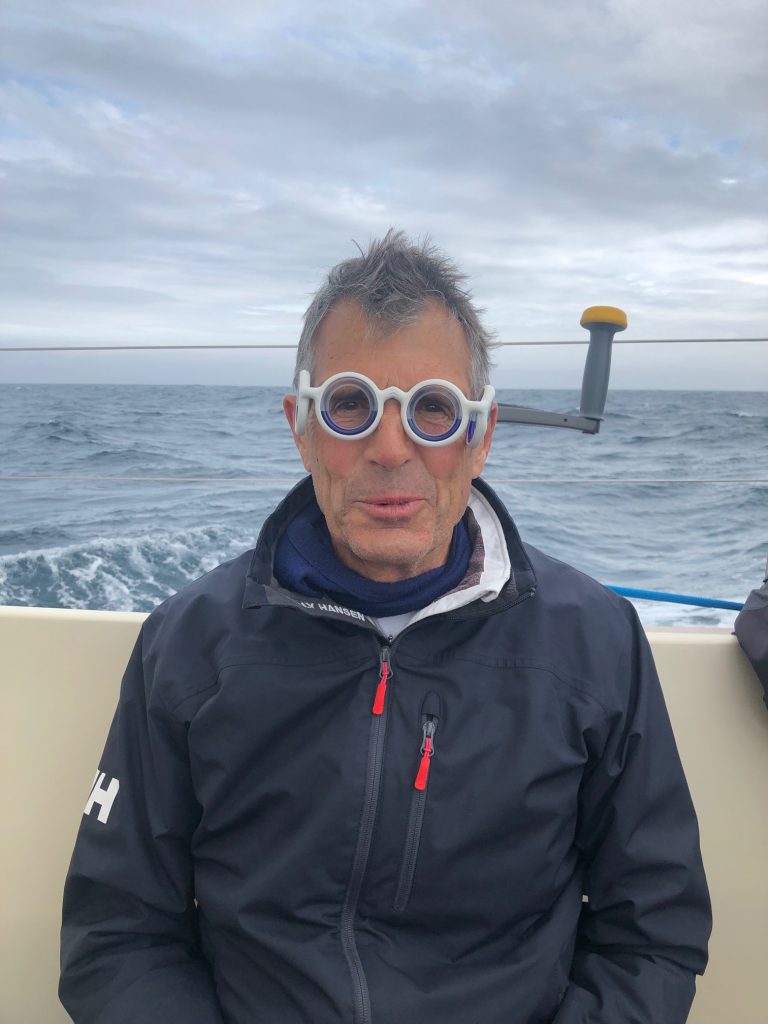 Our program for the next weeks will be the Squadron Members' Regatta 14-16th of June, followed by The Round the Island Race 29th of June and RORC Cowes-Dinard 12-13th of July.