Finally, finally our reward in RORC's Channel Race
July 30, 2019
With 'Finally' I referred to RORC's Myth of Malham Race, with 'finally' to RORC's Cowes-Dinard Race.
In all 20 years of Winsome's participating in RORC races, I believe that we had the most wins in this particular race. So after our frustrations in the two earlier races (plus the Round the Island Race) I anticipated we would win this race and it turned out like that. However we had a marginal difference of 4 minutes on rating over Finola. Peter Morten is reconstructing Scherzo, a Swan/ S&S design so we may expect strong competition in IRC Class-4 from exactly him. The fact that if he sails Scherzo, he cannot sail Winsome is a double loss.
On board: Leen, Dirk-Jan, Boj, Peter Morton, Max Daarnhouwer, Renze, Ed van den Heuvel (previous owner) and myself.
Boj had made a big effort to join us on this race in order to prepare our new A+T instruments for the Fastnet Race 2019, starting Saturday 3rd of August.
We had a very good start, in my eyes a bit too sharp, with classes 3+4, of which 17 boats in our Class IRC-4. Mind you Foggy Dew was missing. A race South of the Isle of Wight of 122 Nm which included one virtual way point.
We left the Needles in the front of the fleet but not as good as in Cowes-Dinard. At 09:45 we hoisted S1.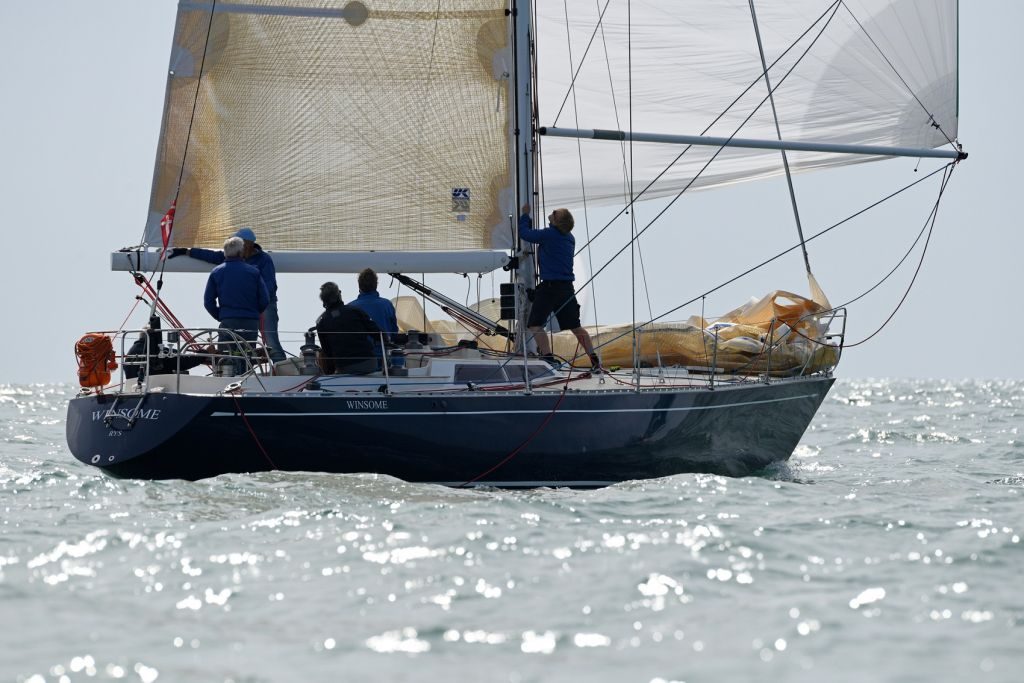 When we rounded the virtual buoy (close to Cote St Catherine's) we had to drop S1 [spinnaker 1] and hoisted G1 [Genoa 1], but two hours later we needed to change to G2.
At the next buoy Perenco Witch Farm (close to Poole) Cetewayo and Cora were within a distance of 1 Nm from us.
With S2 (the Sevenstar spinnaker) we sailed into a dark night and it became clear that we would have to pass Cote St Catherine's Point with full tide again us.
We had to choose passing Cote St Cat either very close or at a large distance. A couple of years ago we had the same dilemma. We choose to pass very close and we won the race.
Same recepy but with sime risk. Very close to the land could mean hitting a rock or loosing wind, or both. Since we sailed on port-tack a broach would mean luffing towards the rocks/land.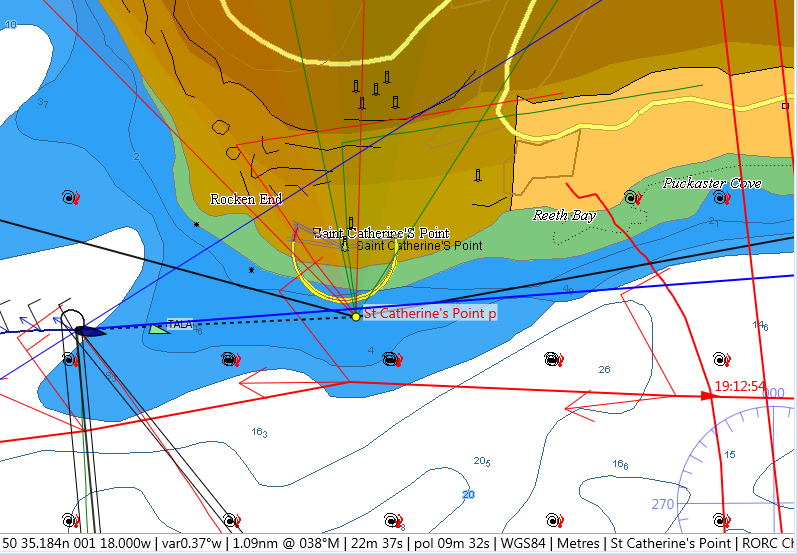 Practically no other boat took this route so very close to the coast, except Brunel which sailed some 2Nm behind us.
After passing Cote St Cat we lost indeed some wind, but we continued to stay close along the coast, in spite of the fact we left the rhumb line. It went all as we planned it so we earned some height and we could continue to spinnaker until Buoy Owers.
Here we won the race and we lost on this leg Cetewayo and Cora. We had no idea at that moment what Finola was doing. Later AIS showed us (after several crashes of our pc – thus no AIS of other boats) that Finola slowed down to a miserable speed of 3,5 knots SOG [Speed Over Ground]. No idea why..
We had to slalom in between several large passenger vessels all preparing themselves for a breakfast arrival in Southampton in the period 2-4 am.
Though we damaged in a tack G1, it did nit hurt us at all since G2 was the proper sail in winds of 16-18 knots. Just lucky.
When finishing we knew that Finola could still win by finishing within 113 minutes from us. She did not make it.

There was another Dutch winner: Erik van Vuuren with W36 Hubo, in IRC Class-3.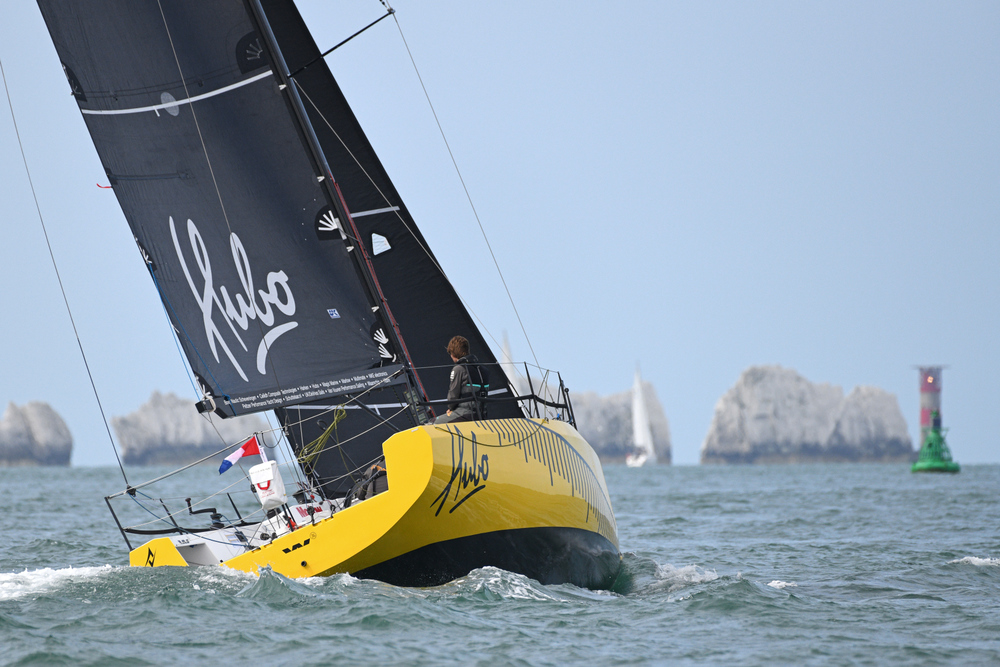 After we cleaned Winsome at 7-8am we had a good breakfast and some of us (not to be named) a nap.
We picked up Julia Ormio from Finland and Guy Jones from Canada, both owners if an 8-metre boat Lara resp Yquiem for a glas of Champagne and lunch at the Pavillion. Julia became my key to sailing in Finland when I met her and her father Matti in Helsinki in the Worlds in Medemblik in 1995 (?). Now she became instrumental to sailing Piksborg with Sophie in Finland. Via her I got to know Reima Alander crewing Winsome on nearly all Fastnet Races I have done.