Rolex Fastnet Race with a Crew having done altogether 25 Fastnet races on board of Winsome (20) and other boats.
August 9, 2019
After RORC Channel Race we had to go to Berthon. MMC Cowes discovered a kind of corrosion resp blisters on the leading edge and on the shoe of the keel, already prior to the RORC Channel Race.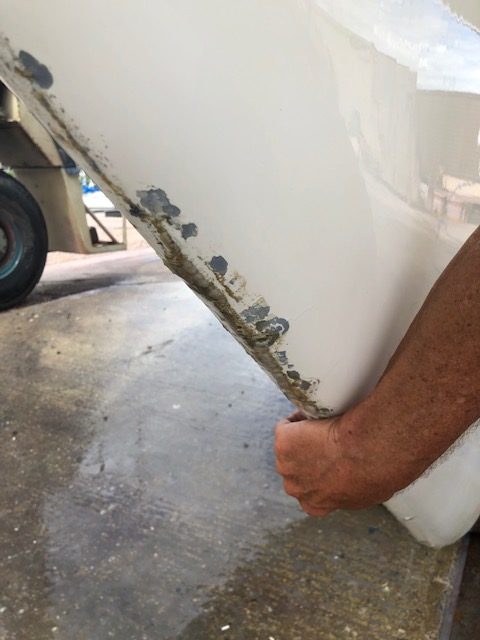 We also had to do some make-up on sb of the hull, caused by LONGE PIERRE in St Malo by pressing the boat into a too small box together with WINSOME.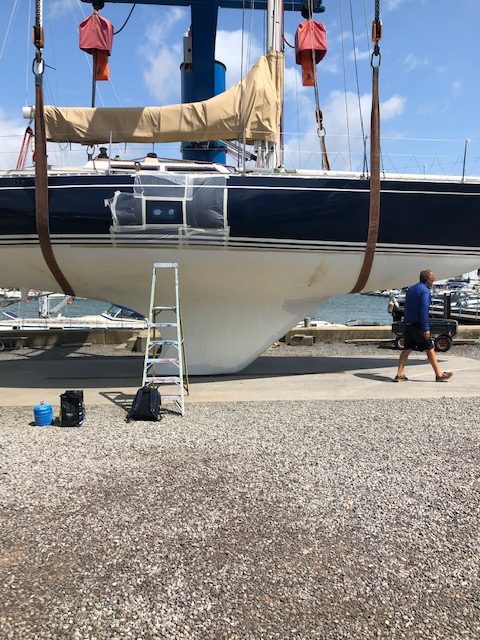 At the same time A+T finished some software jobs, hampered by strong winds which prevented them to get on board on the second day of our stay. This time we met for the first time the software guru of A+T Sam, so we finally got a face to the name.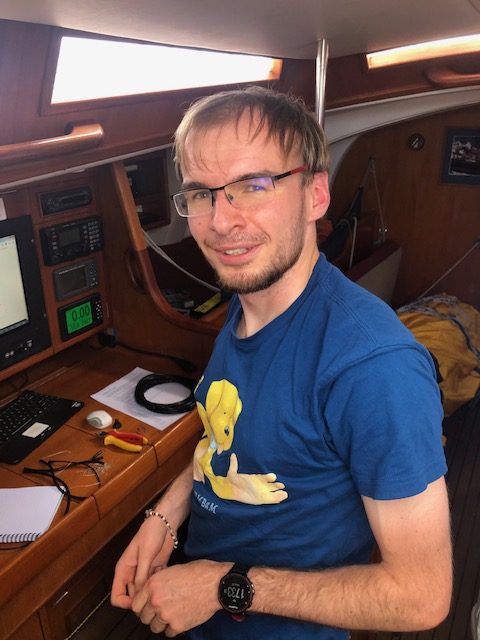 Berthon/Tim did a good job so we could pick up WINSOME on Thursday prior to the start of the Fastnet Race in Saturday in spite of Tim's cooking preparations for XARA, the boat on which he was going go sail the Fastnet Race. I helped him a little bit to get WINSOME into the water.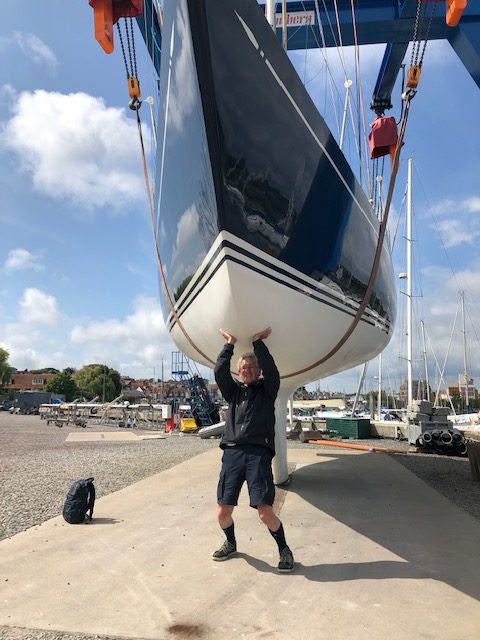 We have had long discussions on board with two electricians of Berthon on the use of our anodes. Will be continued.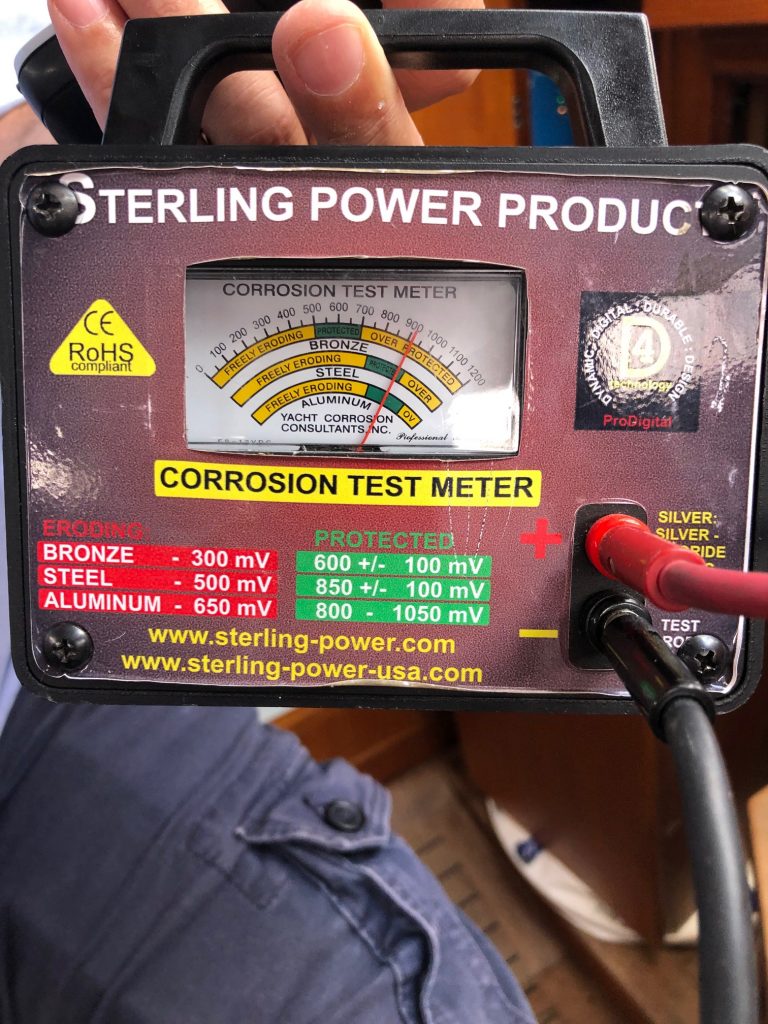 Hugh Agnew left us a nice note and a bottle on board, called after his own boat. Perhaps it was the other way around.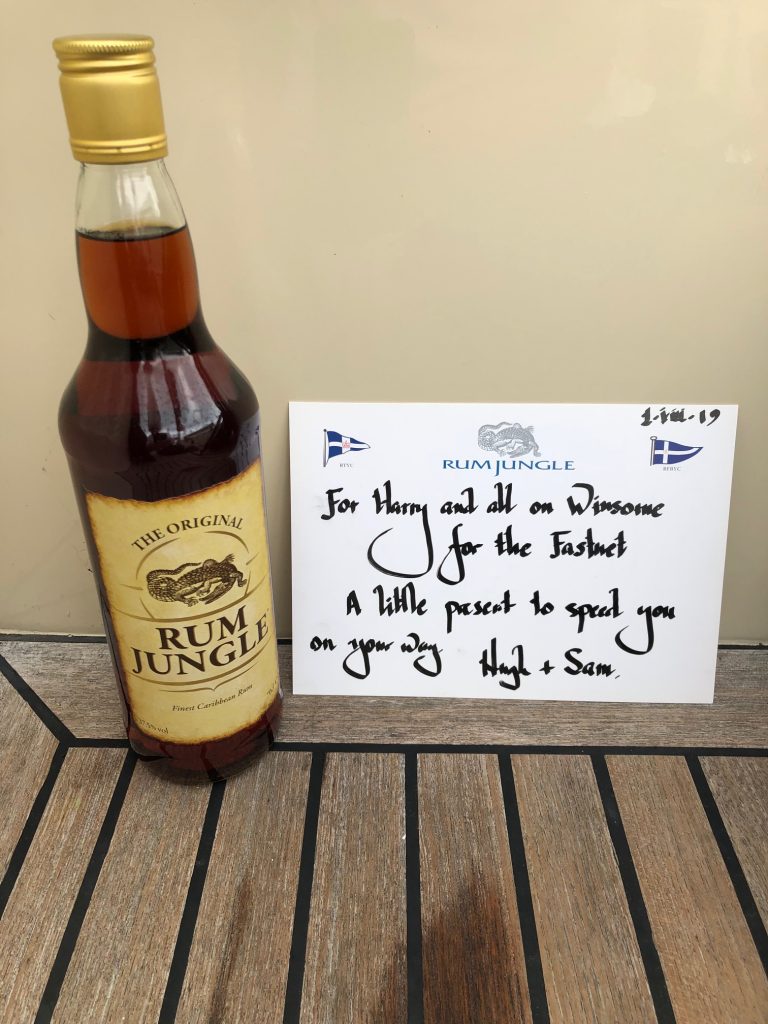 Our Crew: Leen, Reima, Peter Morton, Boj, Dirk-Jan, myself, Herman and Lennard. For the last two it would become their first Fastnet Race.
We had a reasonably good start, but not as good as in the Channel Race and we passed Hurst Castle within a leading group of five boats. Once we passed the Needles Light House we had to change S1 for G1. Richard Klabbers and Geert de Krom (double handed) followed us in their PG2 at 3 Nm, having started 15 minutes later in Class IRC-3.
At the end of the day we had made several spinnaker peels: S1 to S2, S2 to S1, again S1 to S2. Our new S2 carries the Sevenstar logo, like Richard's PG2.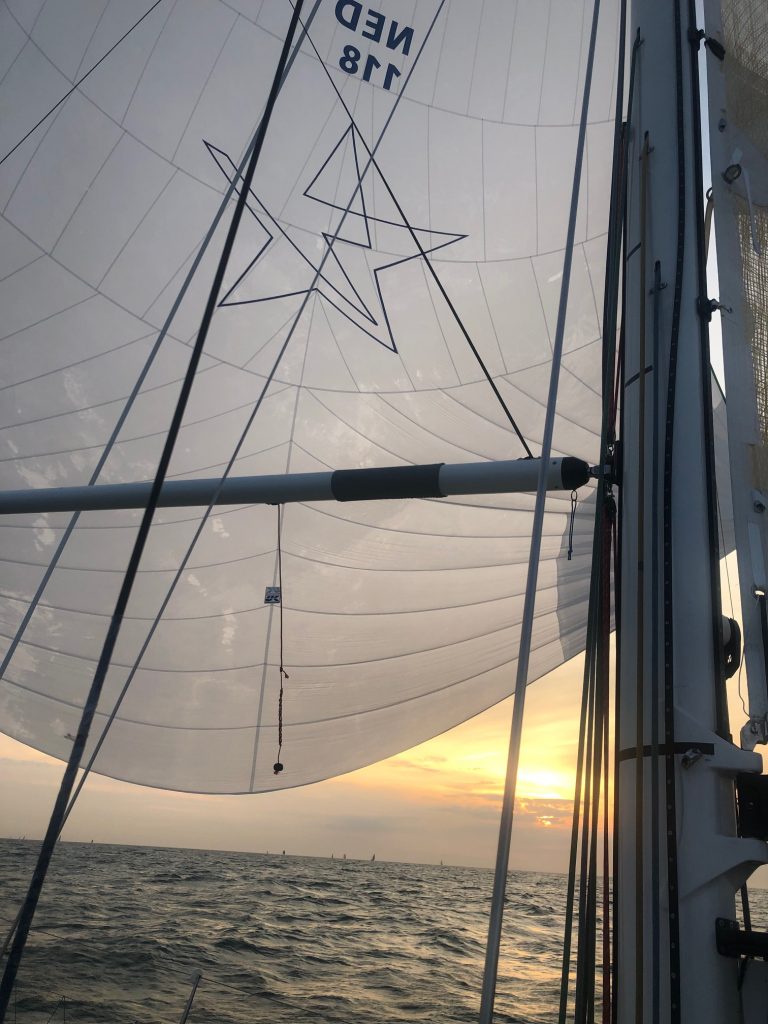 Herman acted as spinnaker-boom-monkey.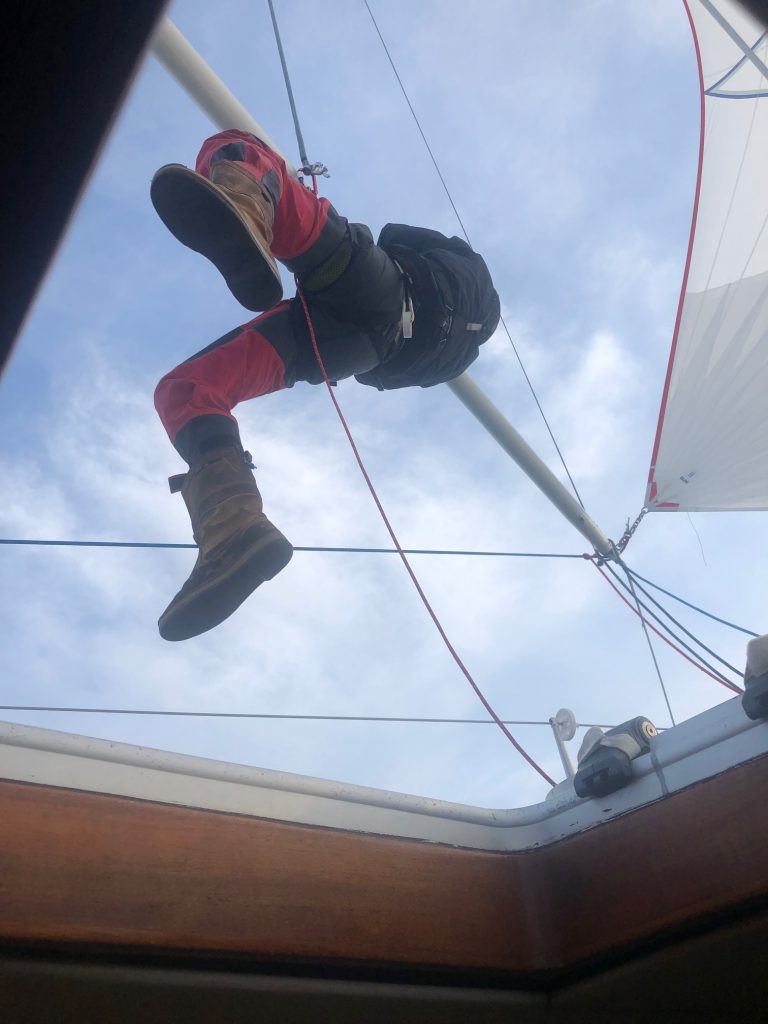 Like most boats we had taken a SW course bringing us close to TSS [Traffic Separation Scheme, forbidden to enter] of Casquets.
At the longitude of Start Point we had to cross a transition zone, as Boj called it, to cross an area without too much wind. It appeared to be a zone with 5 knots of wind, but anyhow more than zero. Thereafter we expected and got winds upto 20 knots to start with.
Our competitors' positions here: FOGGY DEW 3,5Nm, CORA 2Nm and GIOGGIA 2Nm ahead if us; XARA 8,5Nm behind us.
The unpleasant part of our race started after passing Land's End. On this photo it was still a piece of cake.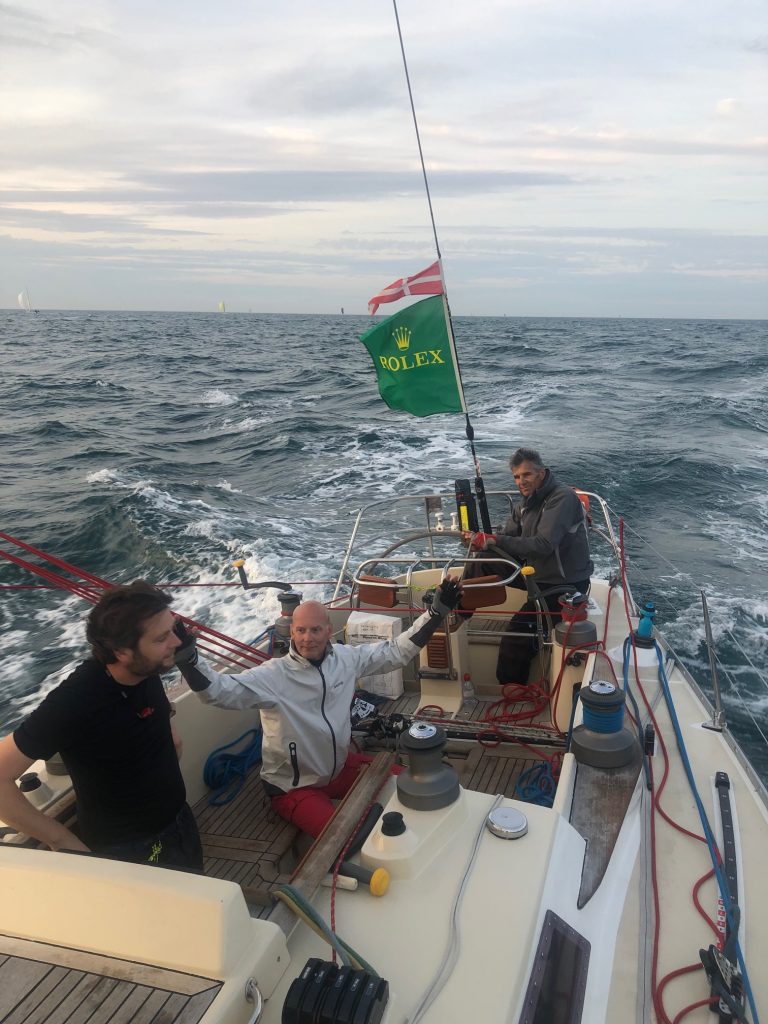 At this stage we had to let our engine run -in neutral position of course- at least two times per 24 hours for one hour- to keep a Voltage of minimum 12.3.
After we passed the TSS of Land's End to sb, the wind built up to 19 knots. It created steeper waves and I found it an extremely unpleasant ride all the way to the Fastnet Rock. The crew supported my thoughts that rounding the Fastnet Rock was not a good moment to give everyone a glass of Paul Roger (nor any other House) Champagne, so I left the bottle and the 8 glasses where I stored them i.e. under the spinnakers.
At this stage it was really not very nice on board and I often questioned myself if I should be on board with my 74 years, not even getting an age allowance for the Skipper under IRC rules.
Getting the Fastnet Rock in sight made me feel already somewhat better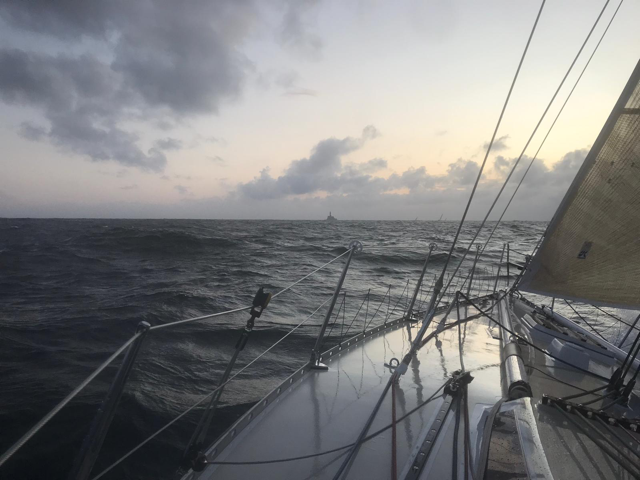 We rounded the Fastnet Rock on Monday 5th of August at 20:14 UTC, just behind FLYER.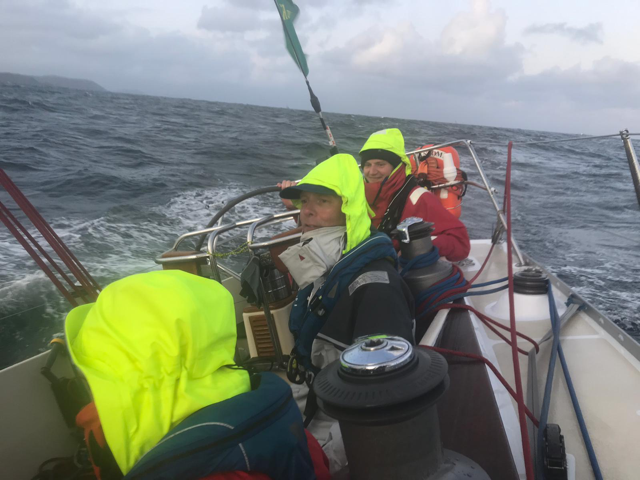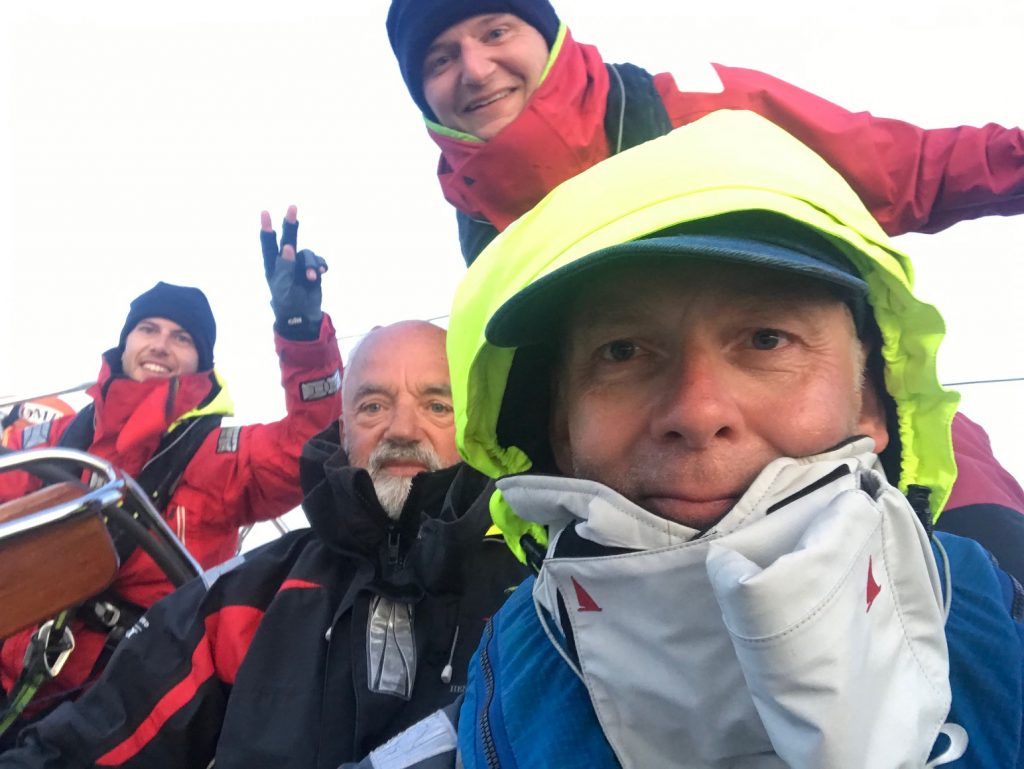 At this stage the boat started to look and to smell like a doghouse.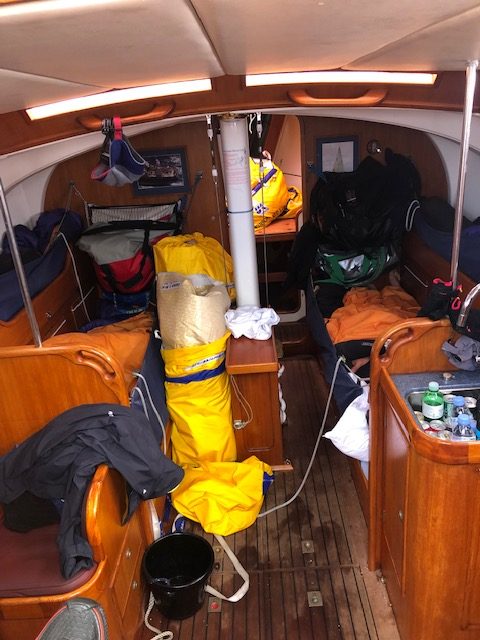 From the Fastnet to the Bishop Rock became a critical part of our trip. SUN HILL III, 14 Nm behind us at the Fastnet Rock started surfing reaching speeds of 13,5 knots resulting into the fact that this boat was only 1 Nm behind us at Bishop Rock. This distance did not change anymore until the finish, but since we needed to finish 3 hours ahead of SUN HILL III, she did beat us on rating and became third in our Class IRC-4.
This leg plus the following to the finish were nice legs and I felt myself fine in spite of my age. Life was looking good again.
At Plymouth I talked to their crew who said they thanked their extraordinary performance to their A5 fore sail. Mind you this Dehler-33 weighs 4 tons i.e. one third of fat lady WINSOME and got the same waterline length (10 metres) as WINSOME.
During the leg from Fastnet to Bishop Rock we changed several times our foresails under the strict supervision and control of Boj. Not any mistake was made. A very good performance with 20-26 knots of winds. We discussed more or less every 20 minutes if we should try to hoist S3, but we came every time to the same conclusion i.e. NJET. To steer the boat properly i.e. keeping her at maximum speed was difficult enough.
FOGGY DEW and GIOIA were out of our 10 Nm AIS range in the meantime. DELNIC, CORA and CRESCENDO became our new competitors for places 4 and 5.
The story would become too long to give details of our fight with CRESCENDO and DELNIC, the latter the highest rated boat in our Class. To make is short: we never came close(r) to CORA, we stayed on the heels of CRESCENDO without being able to pass her in the water nor on rating, but we managed to pass DELNIC both in the water and on rating.
We finished Wednesday morning at 05:07 UTC and were welcomed by Laura who arrived with the Irish boat RAW (Class IRC-1) many hours earlier.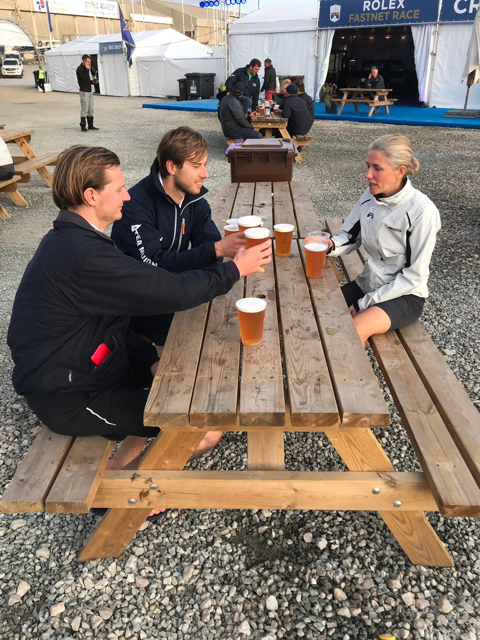 A 6th place in IRC-4 with 87 participants.
Considering there are today, Friday 9th of August, still some boats on the water not having finished, I have to conclude that not all if the 87 boats were competitors so let's be modest and say that we had perhaps 50-60 competitors.
In Class IRC-4A we scored a 5th place with 35 competitors. This comparison looks like to do more justice to our achievement.
https://www.winsome.nl/wp-content/uploads/Video.mov 2962410 video/quicktime