Winsome in RORC Guignand Bowl Race 2023
May 16, 2023
Crew: Leen, Dirk-Jan, Lex, Geoff, Jan-Maarten, Alexander, Pieter Köhne and myself.
Start Saturday morning 13th of May, wind 15 knots.
Because I feared having made a mistake in pinging (puttng the startline on the screen), I asked helmsman Leen to be very carefull at the start, which resulted in passing the startline 40 seconds late (distance from startline at start seven boat length). Nevertheless we had a good position in the field.
Our first mark was Browndown to the East. There was not much tide.
Between Browndown and No Man's Land Fort, we were passed already by Notorious of (the other) Peter Morton sailing at double our speed. It looked very impressive but with a TCC of 1.618 her result in the overall ranking in IRC overall with 83 boats was 56 (Winsome 10, Jamala 28 with Jasper Heikens and Joppe Schepers).
It all went alright until the moment we came close to St Catherine's Point when we arrived at the transition area of the present and the new wind. For two hours we could not do anything else than try to come out of the transition area ino the new wind. Jamala was not so lucky and lost considerably on Winsome.
Then we set course to the buoy Peveril Ledge, close to Durlston Head.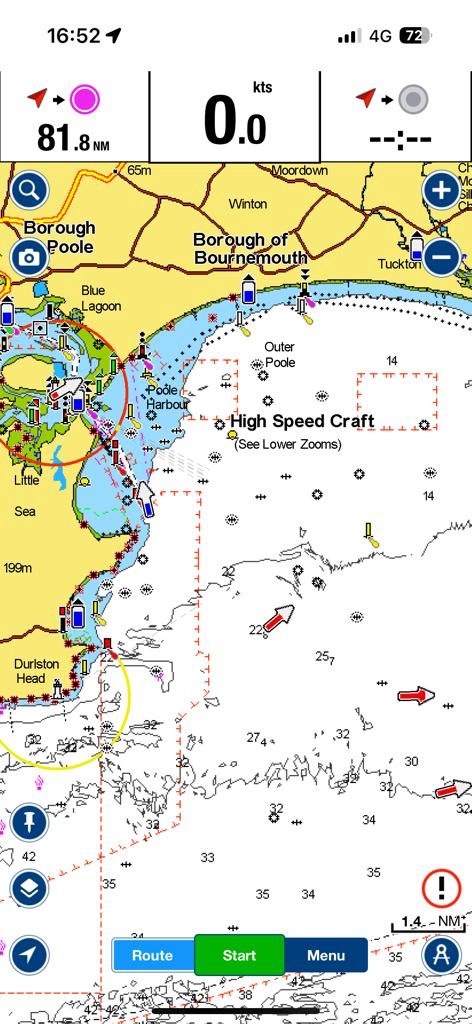 Here started the most difficult part of the race. 40 boats tried at the same time to pass Peveril Ledge buoy to starboard whilst heading into a 3 knots tide at 9pm UTC, already quite in the dark. Since I was myself on the wheel I changed quickly my position with Leen. Two advantages 1. Leen at the wheel 2. Myself on the screen to do the navigation.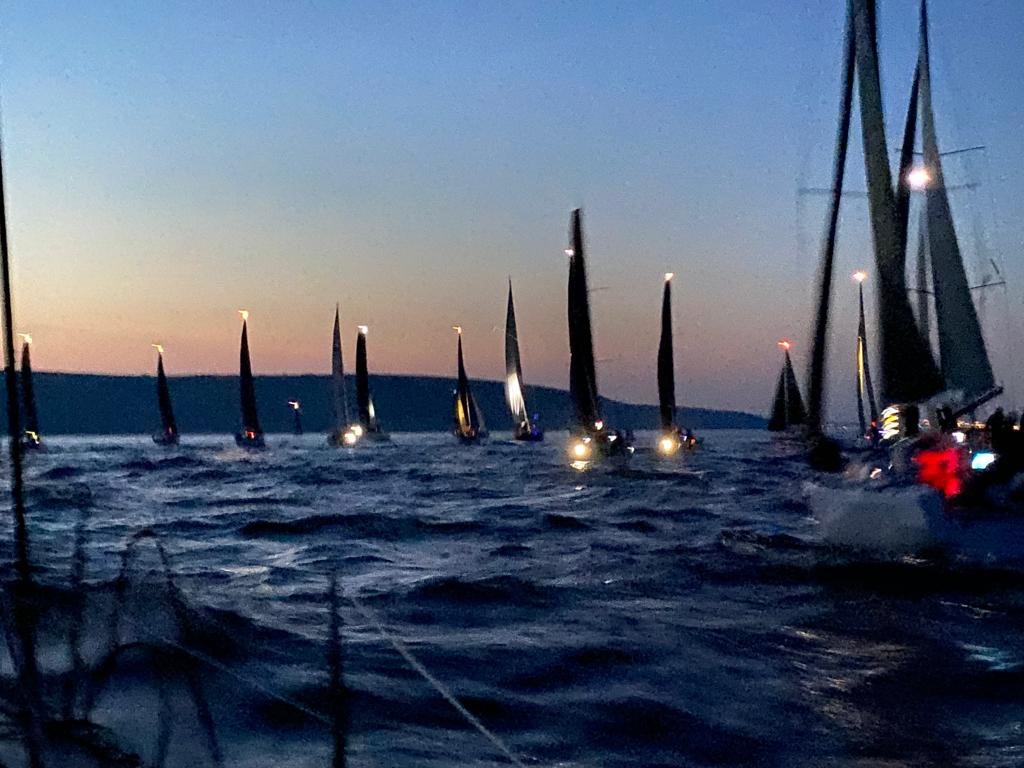 Two times we were pushed back from the narrow area between Peveril Ledge and Peveril Point, heading for Swanage Bay without tacking. All the 40 boats kept their relative positions on starboard tack, except for two short tacks. Moreover just outside Peveril Point there was a place showing only 0,9 metres water. Exciting moments, but not pleasant at all.
Once we passed this difficult place we could continue to the next buoy East of Poole and we relaxed a little bit.
From that point we returned to St Catherine's Point having a favourable tide for the next six hours. No rain at all.
We passed logically the Needles to port, as well as St. Catherine's Point and proceeded towards the Nab Tower with a favourable tide.
Once we passed the Nab Tower the wind came from all directions and it became extreemely difficultt to keep Winsome going into the right direction (No Man's Land Fort), but all boats had the same problems.
Already here I could see on my screen that Cora (Sun Fast 3200) or Mojo Risin J/109) would win this race in Class, being 4 Nm ahead of us. Overall winner became Duff Lite (Corby 25; Irish Laura!). Cora and Mojo Risin became 2nd and 3rd overall).
From the very beginning we had a struggle with Malice, but finally we managed to keep her behind us. I cannot say if we should be happy with our 5th place in Class-3 with 24 boats (10th overall with 83 boats).
Our G1 L stayed in shape with 14 knots and we were happy not to be compelled to change her for G1 M". Zonder geluk vaart niemand wel".
We all did our jobs. The Boissevains the fore deck. Pieter the main sail. Geoff trimmed the main sail very well. Dirk-Jan and Lex talked a lot. Jan-Maarten did his kitchen things, but I missed the fried sardines like he served in our first Fastnet race in 1999.
Now looking forward to RORC Myth of Malham Race starting 27th of May when the fore deck will again be controlled by two brothers (then the van Balkoms).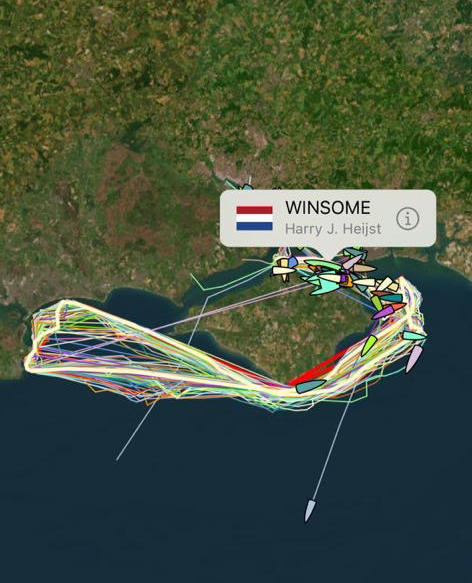 Herebelow some shots taken by Pieter Köhne.