Winsome's healing
July 21, 2013
Leen went Wednesday 17 July already to Berthon in order to supervise the rudder repairs, the fixing of the fairings and the installation of a new gear box. Lewmar made a mistake with the fabrication in the first place. What's new?
When I arrived Friday 19 July Winsome was looking already much better and the fairings, of which the one on port had to be taken off and refitted, looked quite tight to the rudder blade. Good work sofar.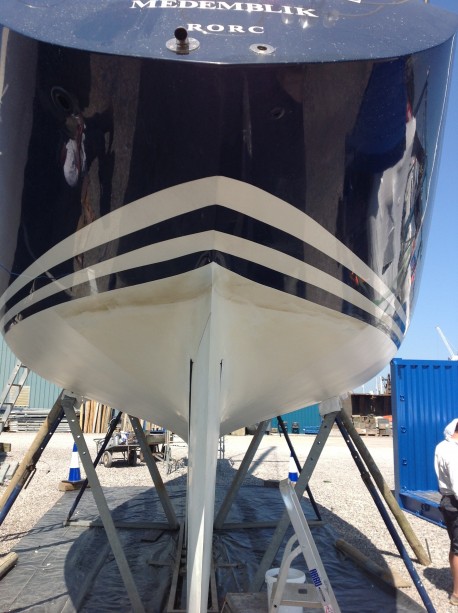 The hull and keel are looking good, but still have to be prepared with anti fouling. This will happen only next week. Launching is planned Thursday 25 July. Looking of the hull on port side she could be a winner.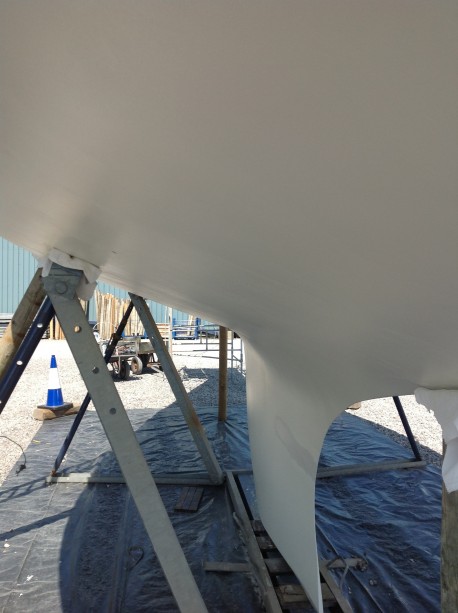 We have taken the opportunity of being at Berthon Boat Yard to replace the old navigation bulbs by LED light navigation lights. They are embedded in a watertight box so we expect that they will be able to hold longer than the old type. In the 50.000 Nm of the last 15 years we must have replaced the old navigation lights many times. Let us see of the new ones will last 50.000 Nm without being replaced at all. If I could sail again once such a distance  is another question. A good debating item during a drink at Winsome's Cottage.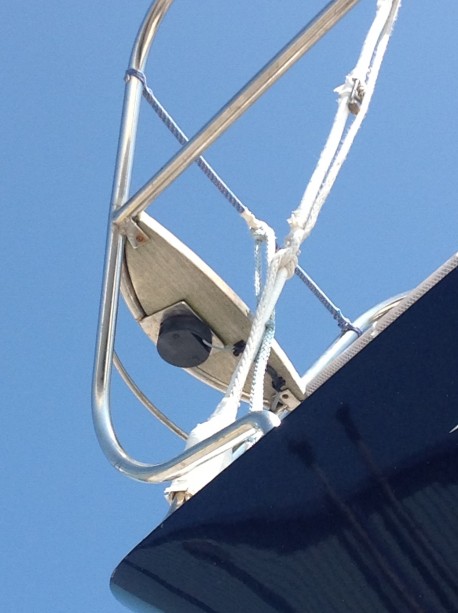 I feel we are now re-starting the 2013 season. The RORC Channel Race will be the first race of the rest of our 2013 programm. For Laura it will be her first race on Winsome, but she will be in the senior hands of Frank and Leen.
The programm is looking as follows:
Friday 26 July. Leen and I will pick up Winsome from Berthon Boat Yard. Dave will have made her looking very very good and if the steering will be as good as during the JP Morgan Round the Island Race, we will be equally happy as Dave who will have saved his neck another time from the Guillotine.
Saturday 27 July start of RORC Channel Race
Wednesday 31 July arrival of remaining crew in Cowes.
Thursday-Friday 1-2 August training for Aberdeen Cowes Week with Laura on the helm
Saturday-Friday 3-9 August Aberdeen Cowes Week
Saturday 10 August preparation of Winsome for Rolex Fastnet Race 2013
15-16 August return to Cowes from Plymouth, to clean Winsome and prepare her for the next race
6 September start RORC Cherbourg Race
7 September dinner with Sophie in Morsalines, close to Cherbourg
7-8 September redelivery to Cowes and perhaps Lymington, though this may happen later pending upon the unknowns in our life and in the life of Winsome.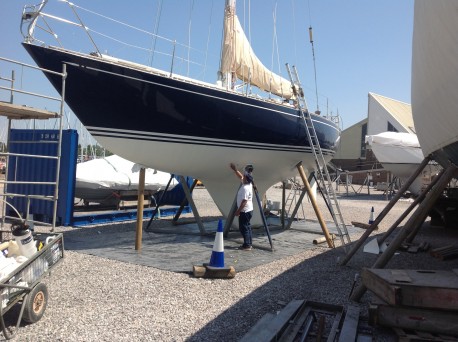 Will be continued